Serving with a Purpose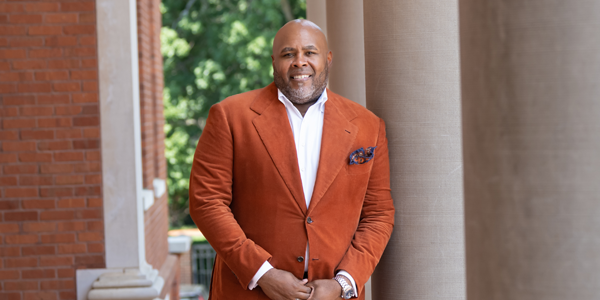 A leader is someone who ignites passion and motivation in others. Great leaders are intelligent, honest, authentic, empowering, flexible and inspirational. Ernest Haynes '97 is one of Clemson's most admired leaders — and you feel an instant connection with him the moment he walks into the room. Ernest is passionate and committed to serving others. He says, "The most sustainable leadership principle is service to others."
This commitment to serving others has allowed him to expand his family from his parents and brothers to include a Clemson Family and a Sonoco family.
The oldest of three sons, Ernest grew up in Columbia, South Carolina, and attended St. Joseph Catholic School through the eighth grade. During the first two weeks of first grade, his teacher, Sister Maria, taught the class two important lessons: how to be a good friend and good posture. These are the lessons that laid the foundation for Ernest's educational and professional life. Ernest then went to Cardinal Newman High School. Following in his footsteps, Ernest's daughter Harley also attended St. Joseph Catholic School and now attends The Cardinal Newman School. In the first grade, Sister Maria taught Harley those same two lessons. It was one of those rare, full circle moments of life — Ernest was Sister Maria's first African American student, and Harley was a student in her last class prior to retirement.
Ernest vividly remembers the first time he visited Clemson. It was the summer of 1982. He was ten years old and spending the summer with his grandmother. They drove to Clemson to visit his uncle, who he refers to as "Mr. Basketball." His uncle, Glen McCants, played basketball for Clemson, and Ernest vividly remembers his uncle's room in Johnstone A. During that visit, Ernest had his first Clemson moment — when he knew he had found his forever home. He reminisced, "I saw his dorm room, and that was it. I was done." This was especially unique for someone who grew up in Columbia surrounded by University of South Carolina Gamecocks.
You can feel Ernest's deep love and appreciation for Clemson; it almost rivals the way he speaks about his daughter and mother — two of the most important people in his life.
Ernest says the University of South Carolina would have made the most sense. It was close to home and had the major he was interested in pursuing. However, his Clemson moment weighed heavy on this mind and solidified his destiny. He says, "Clemson was a natural fit." Even though it was further from his family, he says it never felt distant.
In another full circle moment, Ernest was assigned to live in Johnstone A his freshman year. His parents sent him to St. Joseph's because it was a rigorous academic environment, and Ernest felt confident that he was prepared for college. However, he quickly learned that he would have to apply himself even more if he was going to earn a treasured Clemson degree. Today, he is thankful for his Clemson Experience, and it's why he believes Clemson has strong brand recognition and equity that endures over time.
Ernest's parents always exemplified and instilled in him and his brothers a strong set of morals, values and work ethic. "Do the work" — it was a slogan and a lesson they encouraged, and it was a lesson reinforced during his time at Clemson and later during his professional career. It is a great lesson that Ernest feels still applies to Clemson students today. He encourages them to first do the work — then enjoy everything fun Clemson has to offer. He also encourages Clemson students to run their own race — and remember that everyone's race looks different. If they do the work and run their own race, Ernest is certain they will get great benefit from Clemson. It's the path he followed, and he still affirms that the habits he established during his sophomore and junior year are those that he still practices today as a professional and leader.
As Ernest approached graduation in 1997, he began utilizing the career services at Clemson, and with that, he fielded three job offers, including one from Sonoco. Ernest, an industrial engineering graduate, admits that Sonoco was not his first choice. He had interned with Allied Signal (now Shaw Industries Group, Inc.) in Columbia and was planning to stay with the company and move back to his hometown to be near his family — especially his mom. Ernest met with a Sonoco recruiter who then mailed Ernest's mother a handwritten note commending her for the man she had raised. It was obvious to his mother that Sonoco was a company that cared about its employees. With a "not-so-subtle nudge" from his mother, Ernest accepted the offer from Sonoco and headed to Memphis, Tennessee, starting as a third shift supervisor.
He never imagined it at the time, but with that move, Ernest launched a successful and meaningful career with a Fortune 500 company that he would invest in, enhance and build his life around. This month, Ernest is celebrating 25 years with Sonoco. His tenacity and acumen for leadership has allowed him to climb the corporate ladder, culminating in his recent appointment as President of Sonoco Metal Packaging, following numerous leadership roles within both their Consumer Division and Industrial Division. But in his nature of serving others, he attributes his success to those he has worked with throughout the years, especially those on his first shift. In fact, he can still — more than two decades later — tell you their names and the names of their family members. Ernest says, "I wouldn't be sitting here today if it weren't for these people." In 2002, he returned to the Memphis plant as the plant manager. And though he's relocated to other Sonoco facilities throughout his 25 years, that location will always feel like his Sonoco "home." Clemson's academic rigor had prepared him for the future, and the Sonoco plant in Memphis is where he first implemented his service for the talent of others; putting the needs of others ahead of his own; and always seeking to understand others.
Sonoco , founded in 1899, is one of the largest global diversified packaging companies with headquarters in Hartsville, South Carolina. The company is a global provider of consumer, industrial, healthcare and protective packaging. Sonoco's motto, "People and Packaging with a Purpose," feels especially fitting when describing Ernest. Everything he does in life, every decision he has made, and every relationship he has formed, he has done so with purpose, service and sincerity. But he never stops looking for opportunities for personal and professional growth. A great example of this is his recent completion of The Wharton School's Executive General Management Program (WMP '20).
As a top leader for Sonoco, Ernest has served the company with great energy and purpose. He has also extended his time and talent to serve his beloved Clemson as a member of the Clemson University Foundation Board of Directors . Ernest works alongside his fellow members to promote the welfare and future development of the University and the foundation as Clemson amplifies the opportunities to engage and secure the Clemson Experience for future generations.
It's a role he takes great pride in — recognizing how the decisions of the board have a profound impact on Clemson students and their educational experience and opportunities. Ernest says, "It is about service; and I'm here to serve."
His time and talent are crucial in moving Clemson forward — and he feels fortunate to work with peers who are "best-in-class" in their respective fields. Ernest says, "The board is about Clemson and what each person can do to serve the University best." He especially values the diversity of thought and experiences among the board members that yields open and honest debates about what is best for the foundation and the University. He feels privileged to be able to be an active participant in Clemson's future, and it's another role in life that allows him to serve others. As a board member, he practices the lesson taught by his parents to "do the work — even when no one is looking." When Ernest returns to Clemson and walks across campus, he says it doesn't matter if the students know who he is. It is not about personal recognition; it is about making Clemson better.
Ernest remembers his first exposure to philanthropy was through his involvement with the Chi Zeta Chapter, of Omega Psi Phi Fraternity, Inc., which he pledged while at Clemson. Ernest is now a Lifetime Member of Omega Psi Phi. Together, his commitment of serving others and his developed understanding of the importance of philanthropy led him to establish a scholarship endowment to provide universitywide scholarships for underrepresented students. Named for his daughter, the Harley Madison Haynes Scholarship Endowment will also be supported through Ernest's estate. Ernest also provides annual support to IPTAY and supports the Harvey and Lucinda Gantt Multicultural Center and the diversification of the Clemson University Honors College through the Honors College Opportunity Fund.
Additionally, Ernest has been instrumental at securing funding from Sonoco to support the Snelsire, Sawyer, Robinson Clemson Career Workshop , a summer program designed to prepare high-achieving students from diverse populations to enter college. The Clemson Career Workshop provides rising high school seniors with an opportunity to get an inside look into Clemson University while learning tips and tools needed to prepare for college and beyond.
Ernest was first inspired to consider a planned gift to Clemson after watching a video about the history of the University and how a planned gift from our founders, Thomas and Anna Clemson, established what is now Clemson University. Through their gift of $80,000 and the land surrounding Fort Hill, they set the trajectory for future generations of Clemson students who are still benefitting from their thoughtful generosity today. While that amount was significant at the time, Ernest feels strongly that in today's world, a minimum $80,000 planned or future gift is manageable for every Clemson graduate. He says, "Every graduate can target that amount in their estate assets to match what Thomas and Anna did so many years ago. It's a very simple return on the investment Clemson made in you." And for Ernest, $80,000 is just the starting point. He has already made another significant gift, and he is committed to giving back to Clemson as much as he can — because for all the success he has enjoyed in his professional life, he credits Clemson and his degree for preparing him to successfully leave his mark on the world.
Ernest says, "When you attend and/or associate with Clemson, there's equity that was paid for by those who came before you. People who I will never see, never meet, never know. My job is to provide that same equity for the person coming behind me — whom I'll never know, never meet, never see. That's the essence of how I carry myself — how I chose to serve others and serve this University." He adds, "That's what alumni should be thinking about. There's tremendous equity they get every day from their degree and association with Clemson."
To his fellow Tigers, Ernest encourages you to ask yourself, "What has Clemson given to me? What are the intangible benefits I have received?" For Ernest, he feels significant equity from simply wearing his Clemson ring and walking into a room and saying, "I'm a Clemson graduate."
Success and championships on the field of competition are never promised, and Ernest believes that your support for Clemson should be unwavering — never contingent on the outcomes of a game on Saturday — a title won or lost.
When you support Clemson University today and for the future, you are ensuring Clemson's success in perpetuity. Following Ernest's example, the greatest service you can provide to others is providing support and resources for which you may never see or enjoy a direct impact. This is the essence of a future gift, which allows you to leave a part of yourself to help and serve others.
Our team is here to assist as you explore the ways in which you can support Clemson University in perpetuity with a current and/or future gift. Our website features useful online resources to guide you. For information about general estate planning, our free Wills Guide is available to help your plans before visiting with your attorney. We also encourage you to contact us directly via email at [email protected].