Rick Erwin - Relationships: The Ties That Bind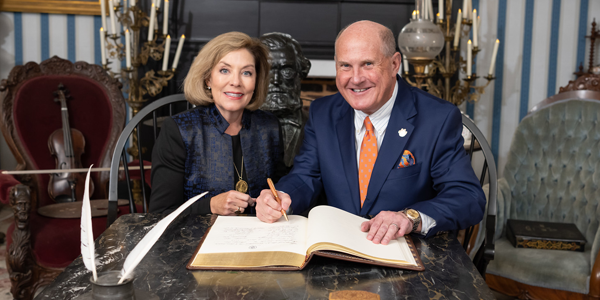 Our relationships define us. As the old saying goes, "You are who you surround yourself with." For all of Rick Erwin's life, he has been surrounded by people who made him (in his words) "better"-from his family and extended Clemson Family to his friends and business partners.
Rick learned the importance of relationship building as it relates to leadership from his father, Mike, whose business success he attributes to the power of connection. Rick witnessed his father strive to get to know and understand his co-workers and leaders during his successful career in the textile industry.
This powerful example gave Rick the inspiration to build strong relationships in his own life, both personally and professionally. Sadly, while in his early 20s, Rick lost his dad to heart disease and cancer. In the wake of this loss, Rick wanted to help support his mother and sister and took a job with Ryan's Family Steakhouse, where he - again - was surrounded by good people who influenced him in ways he would only fully realize later.
Rick learned the ins and outs of the restaurant business during his 23-year career with Ryan's. He saw tremendous growth, from four restaurants in the chain when he started working for them to 346 restaurants in 22 states a mere two decades later. Equipped with the knowledge of what it takes to operate a restaurant and armed with his own vision of offering a memorable dining experience, Rick opened his first restaurant, Rick Erwin's West End Grille, in 2005.
By all accounts, Rick's vision for a dining establishment that would offer guests delicious food and memorable service has come to fruition. Rick's slate of six restaurants in the Upstate has successfully blended warm and welcoming atmospheres with culinary delights. Loyal patrons often encounter Rick in his restaurants, as he checks on them, building those relationships that he knows are keys to success.
"The restaurant industry is competitive," Rick said. "I know our guests have many options of where to dine, and I want them to feel valued and appreciated and walk away with a smile, already looking forward to their next visit to their favorite restaurant."
Much like his father, Rick attributes his success to his emphasis on leadership through relationship-building. Rick watched his parents' friendships grow and flourish at Clemson tailgates and beyond. "Those long-time friendships were forged and nurtured through the mutual love of our Clemson Tigers," he said. He fondly recalls his parents' friendship with Melvin and Dollie Younts , which pre-dates his birth. "The Younts and my parents went to the Sugar Bowl to see the Tigers play about a month before I was born. So I guess you could say I've been a Clemson fan since before I was born," he reminisced. "That realization hit me a few years ago, when I found myself on a plane with Melvin, headed to the Sugar Bowl once again."
Rick is quick to mention that his two business partners, Jason McCarthy and Michael Ivey, have been integral to their restaurants' success for more than a decade. "Jason and I had a family connection that brought us together. After he had graduated from Johnson and Wales, worked in England and trained under a master chef in Richmond, Virginia, Jason joined me 17 years ago, leading and training all our chefs to ensure that we deliver the best for our customers," Rick said. "Michael and his wife were some of my best, most consistent customers, and he came on board 12 years ago to help open our second restaurant - Rick Erwin's Nantucket Seafood - and the others that followed. Michael takes care of the finances so that I can focus on operations. I would not be where I am today without those two guys."
Rick says that he has chosen to leave an unrestricted planned gift to IPTAY because he truly believes in and has faith in Clemson's commitment to excellence and leadership development. He wants to give others the ability to forge strong relationships and become better people by surrounding themselves with good people.
"I was never blessed to have children, so my interest when I leave this earth is to be able to leave something that will help a large number of people," he said. "I have a lot of faith in Clemson's leadership, and I am certain, in leaving an unrestricted gift, that Clemson will use this to benefit students and prepare them for the future. When I put my head on my pillow at night, the knowledge that I will be able to help a significant number of people is something that I'm very proud of."
Rick says that will be the legacy he leaves, as he believes that the growth and development of people is the highest calling of leadership.
Please reach out to our team to discuss how you can also make a difference for future Clemson students through a planned gift. Our website features useful online resources to guide your thought process. For information about general estate planning, our free Wills Guide is available to help your plans before visiting with your attorney. You are most welcome to contact us directly by emailing us at [email protected].