Experiments and experiences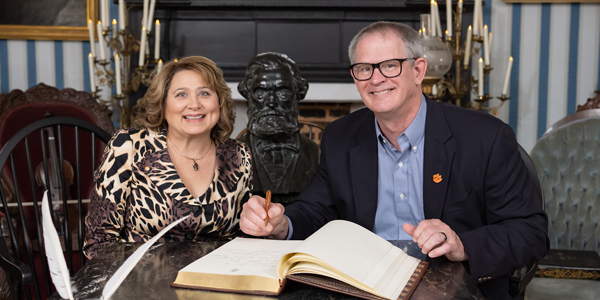 Clemson University faculty members inspire ideas; they support solutions; they reinforce research. They make a difference in the lives of our students, and they provide the knowledge, experiences and guidance our students need to succeed at Clemson and beyond.
Dr. Stephen Creager, Professor of Chemistry and Associate Dean of Science, has been making a difference in the lives of our students since he arrived on campus nearly three decades ago. He has published more than 150 scientific articles while also helping students find their passion for chemistry. But likely his greatest impact has been on graduate education. Through his research, instruction and leadership, Dr. Creager has transformed - and continues to transform - the lives of our graduate students. He has served as a major advisor for more than 20 doctorate students and 10 masters students.
Dr. Creager's career in higher education was primarily inspired by his experiences as a graduate student at the University of North Carolina and the environment of graduate school. It has continued to inspire him throughout his professional career, and he is committed to ensuring current and future generations of graduate students have invaluable experiences that will set the trajectory for their lives.
Dr. Creager's love of chemistry began long before college. He does not remember a time that chemistry was not a part of his life. He developed a love for science, especially chemistry, at an early age. It was a love that was passed down from his mother when he was a child. He remembers that she often experimented, and he laughs remembering how she shared stories about her experiments, including the time she lost her eyebrows or when she blew up her parents' garage. Of Steve's love of chemistry, Sarah says, "He grew up liking chemistry because his mom also loved it."
Dr. Creager's interest in chemistry especially blossomed in high school. And like many others who find their passions in life during these formative years, he remembers one particular teacher who fostered his love of chemistry. It was not an easy class, but Steve felt challenged in ways that made chemistry exciting. "He helped me see the world through that set of eyes; what everything is made up of; how everything is formed." Since then, Steve has been committed to impacting the world through chemistry. He says, "You could learn something that no one else knew before and discover things no one else had."
Giving of his time and talent, Dr. Creager has given back to Clemson through his service in many faculty roles, including as a chemistry professor, chemistry's department chair, and today, he serves as the Associate Dean of Science. His generosity goes far beyond his decades of service. Dr. Creager and his wife Sarah support the College of Science, Chemistry Department and IPTAY through annual gifts. And now, they have established a planned gift that will benefit future generations of chemistry students by establishing the Dr. Stephen E. Creager Visiting Speaker Series.
Dr. Creager says, "Everywhere I've been, I have really been influenced by how schools will bring in individuals from outside the organization to speak to students and faculty." This inspired him and Sarah to designate Clemson as a beneficiary of their estate to establish a speaker series for the Chemistry Department.
The guest speakers Dr. Creager encountered as an undergraduate and graduate student had an influence on his collegiate experience, and he is still inspired today by the speakers who visit Clemson. He describes it as an invaluable experience - one he and Sarah hope to share with future generations. Dr. Creager also remembers a time when Clemson did not have the funds to support speaker series. Through their gift, the Creagers are ensuring that Clemson will have the resources to invite respected speakers to create valuable experiences for our faculty and students.
Steve and Sarah are making a lasting impact on future generations through a charitable bequest. Dr. Creager says, "This seemed like a way I could do something large enough to truly make a difference and provide stability for chemistry to bring in seminar speakers who are such a critical part of our students' education."
Their support of Science ensures the College can remain committed to providing our students with significant experiences - ones that are formative and life-changing. Speaker series are among these crucial experiences that make Science at Clemson stand out among its peers. The College also ensures our students have opportunities to work as part of a team - including Creative Inquiry, research projects and scientific conference presentations.
As part of a land-grant University, the College of Science values being locally relevant and embracing the responsibility of improving the lives of South Carolinians. As an aspiring world-class College of Science, the College is committed to preparing its graduates to be leaders in an increasingly diverse and interconnected world.
The College of Science has played a critical role in the University's recognition as one of the nation's most active research institutions. Representing Clemson's excellence, the Carnegie Basic Classification R1 recognizes Clemson as an economic engine that creates prosperity in our regions and adds significant value to the degrees we award through our international reputation.
Dr. Creager has been instrumental in establishing Clemson as a great research university. "I've really enjoyed being a part of building a good research university. We are now Research R1 and that is something we are very proud of. We want to build upon [that status]."
Having been at Clemson for 27 years, Dr. Creager has had a front row seat to the expansion and growth of our University. He says, "It's gotten better every year, and the future for Clemson looks especially bright." Clemson is an institution on the rise, and Dr. Creager says it has been fun to be a part of that.
By giving generously of his time, talent and treasure, Dr. Creager is supporting Science's mission and following the College's vision for the future.
"I'd like to thank Dr. Steve Creager for his sustained excellence in his service to Clemson - as a faculty member and as a leader. He continues to advance Clemson through his own scientific discovery and mentoring of students as an electrochemist and as an associate dean in our College of Science," says Cynthia Y. Young, Founding Dean of College of Science. "In addition to sharing their talents with Clemson, Steve and Sarah Creager have philanthropically supported the Chemistry Department and the College of Science through scholarships and unrestricted giving, and I thank them for this planned gift that will support a speaker series for the Chemistry Department."
As associate dean, Dr. Creager is responsible for research and discovery, graduate education, faculty affairs and academic space. He works closely with departments within Science as well as colleges across the University. He is passionate about bringing in excellent students, especially graduate students who can serve as mentors to our undergraduates. He describes it as a powerful environment that will bring great minds to Clemson - the next generation of faculty and scholars. And by establishing a speaker series, Clemson can bring chemistry's top leaders to our campus - in turn, attracting the best and brightest faculty.
Dr. Creager grew up in New Hampshire. He earned a bachelor's degree (1982) in chemistry from Rensselaer Polytechnic Institute and a Ph.D. degree (1987) in analytical chemistry from the University of North Carolina. He was a National Institutes of Health postdoctoral fellow at the University of Texas from 1987 to 1989, and he taught at Indiana University for six years before joining the Clemson University faculty in 1995. Since 1989, he has led an academic research group focusing on interfacial electron transfer and materials for electrochemical energy conversion and storage, including fuel cells, electrolysis cells and lithium batteries. His most recent research has focused on ion transmission through two-dimensional materials such as graphene, which could be important for improving the efficiency of hydrogen fuel cells and purifying and desalinating water.
Steve met Sarah in 2011, and they will celebrate their 10-year wedding anniversary next month. Sarah grew up in North Carolina and spent her high school years in West Virginia. She has been a financial services provider for more than 20 years and owns and operates Gray Wealth Management in Seneca, South Carolina. Dr. Creager has "two great kids." Rachael is a software engineer in San Francisco, California, and she is married with one child. Jessica is in her medical residency for neurology in Jacksonville, Florida.
Steve and Sarah support several initiatives that impact the lives of others, including Ripple of One, United Way and Anderson Lights of Hope. The couple is very involved in the National Alliance on Mental Illness (NAMI), with Steve serving as president of the local NAMI affiliate. While they both look forward to when they can devote more time to charitable causes, they have no plans on retiring any time soon. Dr. Creager still loves going to work every day. And it's something he does not take for granted. He knows how rare it is to find your passion in life and be fortunate enough to live it out. Dr. Creager remains as passionate about chemistry today as he was when he was 16 years old sitting in chemistry class in New Hampshire.
Steve and Sarah are making a difference for Clemson today, tomorrow and forever. To learn how you can craft your own planned gift for Clemson, please visit our website or email us at [email protected].
By making a plan today, you can make a powerful impact tomorrow.