The Love in These Hills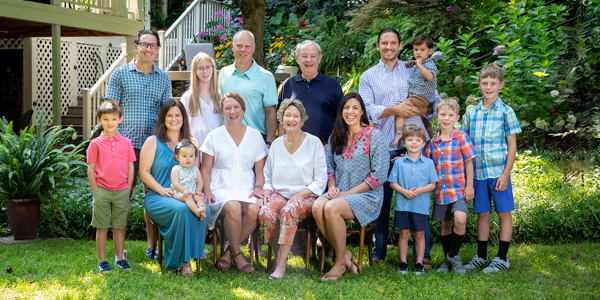 "There is something in these hills that brings together and binds together and holds together men and women of all persuasions, of all heights, sizes, weights, and cultural backgrounds — something that cuts across every difference, spans every gap, penetrates every wall — something that makes a man or a woman stand taller, feel better and say with a high pride to all within earshot, 'I went to Clemson.'"
It has been more than 50 years since Joe Sherman, Class of '34, wrote these words in "Something in these hills" . The wonderful and remarkable thing about Joe Sherman's words is that they are as true today as they were the day he wrote them — and they will still be true in another 50 years.
This is the beauty of Clemson and the Clemson Family. Our love and unbreakable bond transcends through time. Clemson has grown exponentially, and the world we live in is vastly different than it was 50 — or even 10 — years ago. But that special feeling Tigers get when they return to "where the blue ridge yawns its greatness," never changes. It is shared and passed down from one generation to the next.
Sherman wrote these words one sleepless night and brought the essay to work with him to the Clemson Alumni Association the following morning. At the time, Joe Turner '71 directly reported to Sherman, then the Director of Alumni and Public Relations. Joe's mentor shared the essay with him, and Joe remembers feeling especially moved by his words and how beautifully he had described Clemson. But at the time, he never imagined the impact that this single essay would have on the entire Clemson Family for generations to come. And as many of us often do, Joe says he took for granted many experiences, including this one, when he was younger. Joe and Cathy Turner have countless stories of how the people of Clemson impacted their lives. Cathy says, "Joe's love of this place is contagious, it is incredible."
Joe says, "Whatever was here in 1889, it is still here and bonds us together in an indescribable way." And this is why Joe Sherman's words will forever be a representation of the bond among Tigers and the love that is in these hills.
Joe first felt this unique feeling as a Clemson student, then as an employee and now as an alumnus and ardent supporter. However, Joe is most grateful to Clemson for bringing him and Cathy together in 1971. Joe was a college senior and he had accepted a position within Clemson's Alumni Association. Cathy had graduated from Auburn the prior year and had recently become the Assistant Dean of Women in Student Affairs, under Dean Susan Delony. For their first date, Joe took Cathy to see "Fiddler on the Roof" at Greenville Little Theatre. Cathy says, "We started dating, and it was something great." Cathy never imagined how much her first position would impact her entire life and be the stepping stone for her future. The two fell deeply in love and married in 1973. Three years after they married, Joe and Cathy further cemented their roots at Clemson with three children: Anne, Jackson and Tate. The Turners built an amazing life that has been seamlessly connected with Clemson University and the entire Clemson Family.
Cathy invested eight years with Clemson before leaving her position to focus on raising their three children. Joe worked at the University for 14 years, first with the Clemson Alumni Association and later with IPTAY. During his short time with IPTAY, the fundraising enterprise expanded from $1 million to $5 million per year. His significant impact on IPTAY is still felt, as he enhanced and expanded the solid foundation for which today's success was built.
During her time at the University, Cathy was responsible for overseeing sororities and the development of other organizations highlighting the growth of women's enrollment. What she cherishes the most was watching these young women develop into outstanding leaders. The work of Dean Delony, Cathy and all those who came after them has been transformational for the women of Clemson. When Cathy joined university in the early 70s, the female student population comprised less than one quarter of all students. Today, female students comprise more than half of Clemson's student population.
After leaving his position with IPTAY, Joe ultimately became a successful Wendy franchisee. He served as chairman and chief executive officer of First Sun Management Corporation, amassing 52 Wendy's locations, headquartered in Clemson. For more than 30 years, Joe led his team to earn Wendy's highest awards for sales, marketing and overall operations. Twice, Joe's team has been recognized as one of the best franchisees in the Wendy's system and was named Marketer of the Year in 1998 and 2002. He was inducted into The Wendy's Hall of Fame in 2007 and now chairs the Wendy's Dave Thomas Foundation for Adoption board of directors.
Joe and Cathy represent the very best of Clemson. Joe says, "This was my place. It was her place. Then it was our place." With a shared love and deep appreciation for this great institution and its people, Joe and Cathy have made a commitment to honor this special place by investing in the lives of others through their time, talent and treasure.
They have established the Joe and Cathy Turner Tiger Mascot Program, which ensures The Tiger will remain the everlasting symbol of our beloved Clemson. The Tiger is a strong and powerful representation of Clemson's fierce dedication and determined spirit to pursue excellence in everything we do. It is a symbol of Clemson's enthusiasm to be competitive — not just athletically but also in the classroom and throughout our lives.
When the Tiger enters a room, children and adults of all ages are eager to embrace our mascot and secure a selfie. Underneath those stripes are hard-working students who serve sacrificially to lift our spirits and represent our collective goals and aspirations. Competition to secure the coveted honor to serve as a mascot is extremely fierce, and Joe and Cathy's support of the Tiger mascot is ensuring that the honor of this position is given to the best and most dedicated of Clemson Tigers.
We are forever grateful to our students who represent the Clemson Family as our adored mascot. Providing these students with financial support is crucial to demonstrate our collective appreciation for the joy, pride and memories our Clemson Tiger has provided to countless individuals.
In addition to the Joseph and Cathy Turner Tiger Mascot Program and the Cathy Campbell Turner MS '76 & Joseph J. Turner, Jr. BA '71 Tiger Mascot Endowment, the Turners also support the FIRST Generation Program to help ensure success for students who are the first in their family to attend college. These pioneering students often arrive on campus without the foundational knowledge to navigate the academic and non-academic components of a college experience, but the FIRST Generation Success program empowers them to gain the skills to be successful academically and socially as they build lifelong friendships and change the trajectory of their lives.
Joe and Cathy have also given to many other areas of our University, including: IPTAY, Clemson University Tiger Band Association (CUTBA), the Rutland Institute for Ethics, Friends of the Brooks Center, the VP of Advancement Excellence Fund and the South Carolina Botanical Gardens.
Joe and Cathy have always appreciated and valued the Gardens at Clemson. As her own way of "stopping to smell the roses," when Cathy visits the Gardens, she takes the time to read the names on every plaque and bench. She may not know them, but she knows that these individuals are special to someone, and this perfectly represents Cathy's heart and compassion for others.
Joe and Cathy's impact on past and present generations has been far-reaching. They give thoughtfully to the areas that have special meaning for them and their family — from Athletics to the arts; from the Tiger to first generation college students. They always find a way to do more — to ensure their investments will have a perpetual impact. This is why they have created a planned gift for both academics and athletics. Through their estate planning, Joe and Cathy will provide scholarships that will be crucial for the success of our students in the future.
In addition to the many areas that Joe and Cathy support financially, they are committed to sharing their time and talent with others. Joe especially relishes the opportunity to engage with students. He hopes students walk away with the understanding: "You're making a difference where you are. Keep making a difference." Joe feels strongly that if we tell our students that they can make a difference, that they will make a difference. He says, "Like Joe Sherman and many others who paved the path for us, our students will pass this on to the next generation."
As the founder of the Student Alumni Council, Joe recently spoke to the current members. It is something that he enjoys and finds incredibly rewarding. He says, "I love helping students in college, and I look for the opportunity when they may need assistance or guidance. Because of what was done for me, I have always felt a strong desire to help others."
Joe has also devoted his time to propelling our University forward as a volunteer for Clemson's fundraising campaigns — playing an active and crucial role in every academic and athletic campaign for Clemson to date. Joe's service is a representation of the true power of volunteerism and its critical impact on our University today, tomorrow and forever. As champions of Clemson, Joe and Cathy have built — and continue to build — upon Clemson's solid foundation to make the future for Clemson even brighter for generations to come.
Cathy's devotion to Clemson has been unwavering for more than 50 years — since she came to Clemson for a job opportunity with Clemson's student affairs. In recognition of her love for Clemson, her passion for the community and living a life that exemplifies the Clemson spirit, Cathy was recognized as Clemson's Mother-of-the-year in 2019. She described herself as "lucky" to have received the award, but we feel that such an acknowledgement for Cathy's service to Clemson is only fitting.
The love and devotion Joe and Cathy feel for Clemson captures you. Joe says, "The love that was given to me — to us — is the love that that we want to pass on to others. And we hope it will make a difference."
Joe and Cathy feel immensely lucky and remain humbled to have known so many important people in Clemson's history — Joe Sherman, Dean Walter Cox, Susan Delony, Dr. R.C. Edwards, Bill McLellan, Phil Prince, Bob Bradley and Frank Howard to name a few. We can still feel their love and spirit echoing across our campus and in our community.
As a member of the Clemson Family, there is a warmth and comfort when you're with fellow Tigers — those who share your love and passion for Clemson. You feel that when you're with Joe and Cathy, and they hope to share that feeling with their fellow Tigers during this year's Golden Tiger Reunion in June. The Reunion brings Tigers home to reconnect, reminisce and make new memories in the special place that brought them together. As a representative of the reunion committee, along with Gary Clary '70 and Dan Garrison '72, Joe recently joined Bubba Britton with the Clemson Alumni Association for a Facebook Live to discuss the upcoming celebration and how classes that graduated more than 50 years ago will reunite to share stories and experiences. This year's Golden Tiger Reunion will include classes from 1970 to 1972. During the reunion, the 50th reunion class is inducted into the Golden Tiger Society during a graduation-style ceremony. As much as Clemson as grown, Joe is certain that when his classmates return to Clemson, they will have the same emotion and overwhelming joy he feels every day in this special place. He says, "Every time I see it, it gives me a warm feeling. I am home."
From Joe's time as a student to his and Cathy's time as employees and members of the local Clemson community, they have felt that the Clemson Family is committed to taking care of them. And now they are paying it forward and remain inspired to perpetuate the legacy and take care of the next generation of Tigers.
At the end of the day, Joe and Cathy have one simple wish — that they have helped somebody, somewhere, as a part of Clemson. Through their previous, current, and future giving plans for Clemson, the Turners are making an impact on thousands of students.
Cathy says, "If you have great people and a mission of value, you can move mountains." Among the great Blue Ridge — with the passionate support of our Clemson Family members, like Joe and Cathy Turner — Clemson will continue to move mountains.