Shining a Light on Others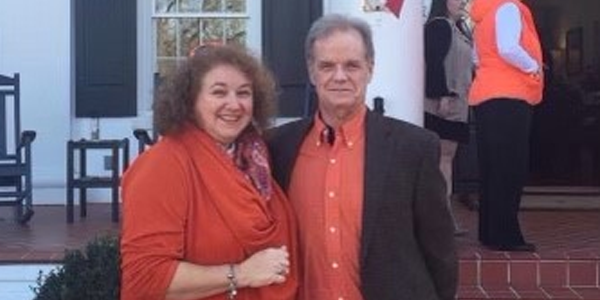 When Charles '84 and Rhonda Cooper enter a room, it lights up. Their zest for life and love of Clemson is palpable. Within a few minutes of meeting them, you feel like you have known them for years. Charles and Rhonda make you feel at "home" — like you are with family. That is because they consider you as a part of their family — their Clemson Family. To them, there is no stronger or greater bond!
Charles' father, Charles (Charlie) W. Cooper, always dreamed of attending Clemson. However, when his only option was to attend the University of South Carolina, he decided to enlist in the military. He was forever loyal to the Clemson Tigers, passing that loyalty down to his son. For Charles, there was no other university worth considering — it was always Clemson. His dad took him to see Clemson football compete against the Gamecocks in 1966, and he has never forgotten that experience. He remembers the excitement — and that Clemson won 35 to 10. In the 55 years since, he has not missed a single matchup against our greatest rival.
Charles and Rhonda are "All In" for Clemson. When you meet them, even "All In" feels like an understatement to describe their devotion and dedication to this University. Their commitment to Clemson is widespread — ranging from their support of academics and athletics to sharing the Clemson spirit with everyone they meet.
Charles graduated from Clemson in 1984 with a degree in engineering technology. His first employer was JP Stevens, once the leading textile manufacturer, in Florence, South Carolina. After two years, he moved to Virginia — where he met Rhonda in 1986. Charles invited her to the Homecoming game against Duke, and from that moment, Rhonda embraced the Clemson Family, and the Coopers have not missed a home football game in 35 years. On Saturdays, they would "burn the road up" driving to Clemson with their boys, Perry and Bennett, from the time they were infants through their teenage years. Together, they have shared their love and passion of all things Clemson with their sons.
Following in his dad's footsteps, Bennett graduated with a degree in computer science in 2020. He is now a doctoral candidate in Clemson's graduate school program. They describe him as brilliant and capable of anything he sets out to accomplish. Perry graduated from the University of Tennessee Knoxville and is currently living in Phoenix, Arizona, working in data forensics. While Perry did not attend Clemson, Charles and Rhonda laugh that even while a student at the University of Tennessee, Perry would proudly wear his Clemson shirts to class. Rhonda says, "His heart belongs to Clemson." When they talk about their sons, their love and pride is tangible. Given the support they have provided Perry and Bennett and their confidence in each of them, it is no surprise that both their sons are enjoying great success.
Charles and Rhonda had always planned to relocate to the Clemson area since it "felt like home to them." The Coopers lived in Nashville, Tennessee for 20 years — and they loved it. It is where they raised their boys, found their church family and cultivated their love of live music. Charles recently retired as Director of Quality Assurance and Technical Support after a successful career with VF Imagewear. VF Corporation is one of the world's largest apparel, footwear and accessories companies connecting people with brands such as JanSport, Eastpak, Timberland, The North Face, Vans and Smartwool. Rhonda studied fashion in Atlanta and worked within that industry for ten years. She later found a passion working for the public school system in special education and the libraries. Rhonda says her greatest regret in life was not finishing college, and that is one reason she is so passionate about helping others reach their educational goals.
When the COVID-19 pandemic shut down most of Nashville, the couple decided it was time to move to Clemson. The Coopers certainly miss the live music Nashville offers nightly. However, they have enjoyed scouting out local music events and venues to fill that void. Living on Lake Hartwell, Rhonda and Charles enjoy everything it has to offer. Now locals, their "All In" spirit has expanded, and they enjoy nearly every college sport. They now attend basketball, baseball, softball and soccer games. If there is an opportunity to support and cheer for the Tigers, you can count on Charles and Rhonda being there.
The Coopers have been IPTAY donors for more than 40 years. For 25 of those years, Charles served as an IPTAY representative in the Nashville area and was significantly involved in the Nashville Alumni Clemson Club as the former treasurer.
While exploring a potential legacy gift to Clemson, Charles and Rhonda decided to create a Charitable Remainder Unitrust for the College of Engineering, Computing & Applied Sciences (CECAS). Their future gift will establish the Charles and Rhonda Cooper Scholarship Endowment for CECAS and the Charles and Rhonda Cooper Endowed Graduate Fellowship for CECAS.
Both the scholarship and the fellowship will be awarded based on academic merit to out-of-state students. With their creative life-income plan, they will receive annual income during their lives, and the final proceeds will be used to provide financial support to students throughout their undergraduate and graduate years. Their inspiration for this planned gift vehicle originated from their experience as parents of college students — especially a student attending an out-of-state university.
Charles and Rhonda remain grateful for the many blessings life has provided them, never taking for granted the ability to send one of their sons to an out-of-state school. The "sticker shock of tuition and housing" was the inspiration that fueled their desire to provide student support for future generations. The Clemson Experience is unique, and the Coopers wanted to pave a pathway for merit-based students whose families find the out-of-state tuition prohibitive. For Charles and Rhonda, creating support through an estate gift will permanently pave the road to success for future generations of Tigers.
Sadly, in 2019, Charles experienced a life-changing diagnosis — mouth cancer. While still an executive with VF Imagewear, he underwent intensive medical treatment in Nashville, yet he never lost his spirit and light. During treatments, he bravely continued to shine his light on those he met at the Vanderbilt University Medical Center. For all the amazing care he received, Charles is immensely grateful and supportive of the caring medical professionals at the hospital. Charles is a cancer survivor, and the journey inspired the Coopers to consider how they could make an impact on Clemson's future. He began to ask himself, "What has contributed to my life?" And the answer always pointed back to his beloved Clemson. He says, "This institution is who I am today." He and Rhonda feel very fortunate to be in a position to give back to others — to pay it forward.
Charles fondly recalls his time as a Clemson student and how the University prepared him for a successful career. He especially remembers Dean Walter Cox who is respected and revered by generations of Clemson students. Dean Cox provided Charles with the guidance and motivation he needed to finish his Clemson degree. Charles admits he was lacking some dedication to his academic studies. When Dean Cox asked him, "What do you want to do?" Charles responded that he wanted to graduate. However, Dean Cox was asking from a deeper level, continuing to probe until he was able to articulate his goals beyond Clemson. As a college student, Charles was not thinking very far into the future. He was enjoying his time in college — and he laughs that maybe he was even enjoying it a little too much.
Charles calls his meeting with Dean Cox "fate." It's one of the special and defining moments of his life. The remarkable thing about Dean Cox is that Charles was certain he had that same impact on many other Clemson students — which is merely one example of how the people of Clemson have shaped Charles' life.
He and Rhonda describe Clemson as "special" — and they know that the people are the genesis of that unique quality. Clemson provided Charles with lifelong friends — friends he and Rhonda still enjoy seeing today: the Hanna family (Michael '83 and Lynn); the Hickman family (David '83, Teresa, Lauren and Tara '08); the Derrick family (Dan '69, Sandra, Leigh '95 and Jamie '99); and the Johnson family (Don and Barbara '07). For more than 30 years, they have all gathered on football Saturdays, watching children mature from Tiger Cubs to full-grown Tigers. This "special Clemson Family" travels together to away games, bowl games and playoffs. As they share these stories, Charles insists that Rhonda display a jean jacket that she dons every chance she can to show her support of Clemson. The back of her jacket displays a one-of-a-kind graphic illustration of the Tiger at Memorial Stadium. It also bears signatures from many of Clemson's players and coaches. Proudly, she adorns this jacket with commemorative pins that represent special games or events. It is certainly a conversation piece, but even more, it represents their memories and passion for Clemson Athletics.
Charles and Rhonda's Tiger spirit is truly contagious, as they are among the Clemson Family's most loyal and dedicated. The Coopers have so much to offer fellow Tigers through their joyous personalities and "All In" commitment. They inspire us to consider how our gifts of time, talent and treasure will make a difference in the lives of others. Charles reminds us to look inward for a true reflection on what has contributed the most to our success and daily lives. We encourage you to let your answers guide your philanthropic journey. As we are now in a New Year, it is a time for new beginnings. Will you begin the journey to create a legacy of support at Clemson? How will you impact the lives of our faculty, staff and students for the future?
It is always our privilege to assist you in your consideration of how you can make a positive difference in the lives of Clemson students today, tomorrow and forever. Please visit our website to explore the useful online resources. Information about IRA Charitable Qualified Distribution (QCD) benefits can be found here. For information about general estate planning, please download our free Wills Guide, which is designed to help you navigate your thoughts and plans before you visit with your attorney. And of course, we would also love to hear from you directly by emailing us at [email protected].