A Season of Giving. A Lifetime of Impact.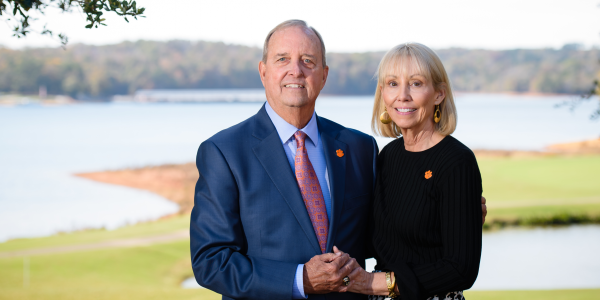 The most meaningful gifts are those made from the heart. Tom and Karen Chapman are intentional about supporting programs that have immediate impact on others - quality healthcare, autism, people with intellectual disabilities and higher education. Their own life experiences have produced a commitment to leadership and advocacy for those less fortunate. They have dedicated their lives in service to others.
Tom says, "By helping those who need it through your gifts, you challenge others to be better - to rise to the challenges in the world and make a profound impact."
When speaking with Tom and Karen, you will hear them refer to being "All In." It is a term the Clemson Family has embraced through Coach Dabo Swinney. For the Chapmans, it is about holding high the flag of dedication and commitment inspiring us to give to others, even beyond financial support. It is being involved with the causes to which you give and watching your contributions make a difference in the world. "That is the blessing, and it is what giving back is all about," says Tom.
As a student-athlete and scholarship recipient, Tom developed a unique understanding and deep appreciation for philanthropy. He understood that others had selflessly given of their resources for his benefit. Since his time at Clemson, Tom carries with him a deep appreciation and gratitude for those who served to champion and support a pathway for his Clemson experience. He says, "We believe giving back is part of the reason that God allowed us to be blessed."
Choosing to attend Clemson was not a difficult one. Tom loved the foothills. He loved the appeal and charm of a small town, and it was close to his home in Atlanta. Tom treasures his time at Clemson and he has fond memories of the close bonds students shared with one another, their professors and the community. Summing up his experience, Tom says, "Clemson was a cool place to be before it became cool."
Tom was a two-time all-ACC pitcher for Clemson baseball and the University's first professional baseball draftee. He pitched for the Philadelphia Phillies system until April 1968, when he was called to active service in the Army Reserve and deployed to Vietnam, where he served with distinction. He continued his education, earning a degree in advanced management from Harvard in 1978.
As faithful champions of Clemson students, Tom and Karen's amazing generosity in support of academic, athletic and University-wide programs reflects their superior devotion and loyalty to this great University. The Chapmans were our first Cornerstone Partner for Academics. Clemson Cornerstone Partners are a select group of thinkers and innovators, whose contribution of time, talent and resources lay the cornerstones upon which the future of this University rests. Each Cornerstone Partner has embraced Clemson's vision, and they have invested in the advancement of our programs through extraordinary and transformational gifts. (Read more about Cornerstone Partners here).
Tom credits his career and professional success to the leadership lessons he learned in the classroom, on the baseball field and during his time in military. Tom's love for the game of baseball coupled with his Clemson experience inspired the Chapmans to fund the construction of the Thomas F. Chapman Grandstands at Clemson's baseball stadium and to establish the Thomas F. Chapman '65 Leadership Scholars Program. The leadership scholars program, which spans across all colleges, demonstrates the Chapman's commitment to "developing great leaders," Tom says.
The Thomas F. Chapman Leadership Scholars Program was the first of its kind, quickly becoming the premiere leadership program at Clemson - one that has been modeled by many other institutions. With an additional gift of $4 million, they expanded the Thomas F. Chapman Leadership Scholars Program and also created the Thomas F. Chapman '65 Distinguished Professorship in Leadership for an outstanding faculty member to lead this extraordinary leadership experience.
The Thomas F. Chapman Leadership Scholars are selected at the end of their freshman year, and they receive an annual scholarship for the next three years. Each scholar must demonstrate leadership potential and nurture those qualities throughout their Clemson career. Based, in part, upon a leadership theme developed by Tom that uses "The Wizard of Oz" characters, the program utilizes analogies like, the Scarecrow (for intellect), the Lion (for courage) and the Tin Man (for heart). Reflecting on the Oz characters, Tom says, "They were all in pursuit of something they already had." Each of the scholars accepted into the program have unique qualities and attributes. The program fosters a balance between these characteristics to build the next generation of outstanding leaders.
During the first year, Leadership Scholars focus on developing intellect and defining leadership capabilities. The second year, they learn about courage, ethics, behavior and leadership styles. The Scholars then focus on serving others. This third year is crucial for the students to better understand and appreciate the blessings received through the program. The ultimate goal for the Scholars is to develop a solid foundation of leadership and to learn that giving back is a direct way to make the world a better place.
Tom and Karen are champions of the program through their unique commitment to interact with the scholars. Confident in Clemson University's leadership, the Chapmans are proud of the faculty and staff's efforts to structure the program for the greatest impact on its scholars. They especially enjoy the letters of thanks and appreciation they receive from the scholars - long after the students graduate and have joined the workforce and continue to develop themselves as leaders, influencers and community activists. The Chapman Scholars program empowers Clemson students to truly make a difference in the lives of others - for which there is no greater reward.
Tom and Karen continue to make meaningful investments in Clemson's present and future. Their most recent gift supports ClemsonLIFE - a program that warms their hearts and has a deep personal connection. Firsthand, they have experienced the struggles, stress and difficulties faced by parents and caregivers. LIFE ( Learning is for Everyone) is a motto that Tom and Karen wholeheartedly believe, and it is why the LIFE program attracted their attention.
When introduced to the program director, Dr. Joe Ryan, and his passion and commitment to changing the lives of LIFE students, Tom and Karen found him to be creative, brilliant and inspiring. Even more so, he warmed their hearts. After speaking with Dr. Ryan, Tom and Karen went ALL IN for ClemsonLIFE and created an unrestricted endowment to provide resources for these special students.
Karen says, "They are so full of love and having them share that love with others is just magical." The ClemsonLIFE students demonstrate love and excitement with everyone they meet, spreading that joy across the Clemson community.
The LIFE program offers a collegiate experience that prepares young men and women with intellectual challenges for competitive employment and independent living through a combination of academic coursework and career exploration. Designed for students who desire a post-secondary experience on a college campus, the program incorporates functional academics, independent living, employment and social/leisure skills in a public university setting with the goal of producing self-sufficient young adults. Tom and Karen's support for this program ensures that our LIFE students will have the college experience and the skills needed to be successful beyond Clemson.
Tom served as chairman and chief executive officer of Equifax Inc. from May 1999 until his retirement in December 2005. For more than 40 years, he built an outstanding career in banking, information technology and marketing. Before joining Equifax in 1990, he spent 20 years with First Atlanta Corp. (acquired by Wachovia Corp. in 1985). Prior to his time with First Atlanta Corp., he founded and became chief executive officer of Financial Environments Inc., a financial services consulting company.
Karen is retired chief administrative officer of Equifax and holds a Bachelor of Science from North Carolina State University.
Tom's dedication and support to Clemson as an alumnus has been celebrated through several recognitions and awards. He received the Clemson Alumni Distinguished Service award for his dedication to enhancing the value of the University for future generations and for his service to his community and personal accomplishments that serve as a model for students. He also received the Bond Distinguished Athletes Award - given to those who have shown great character in becoming outstanding citizens after Clemson.
Tom served on the board of the Clemson University Foundation, the Athletics Advisory Committee and now serves on the President's Advisory Board.
Karen was named an honorary Clemson alumna for her devotion, loyalty and support she gives to so many members of the Clemson family. Karen was surprised - and remarkably grateful - when she received the recognition. She said, "When I think of Clemson, I think of family. It was so very special and such an honor."
In addition to their support of the Leadership Scholars, IPTAY and ClemsonLIFE, the Chapmans are members of The President's Leadership Circle and Founding Partners of the Barker Scholars Endowment.
Beyond Clemson, the Chapmans share their generous spirit with many philanthropic causes, including cancer prevention, detection and care initiatives at Piedmont Hospital in Atlanta. They established the Thomas F. Chapman Family Cancer Wellness centers across the Piedmont system in Georgia. The Chapmans were also involved with Georgia CORE (Center for Oncology Research and Education).
Tom and Karen are also dedicated to helping children with autism through the Marcus Autism Center, for which they created the Tom and Karen Chapman Care Coordination Center.
What is truly special about philanthropy is we may never meet the generous people who make the decision to invest in us, yet those are the people who will forever leave their mark on our lives. For the children at the Marcus Autism Center, the families at the Ronald McDonald House, cancer patients at Piedmont Hospital in Atlanta, the ClemsonLIFE students, Tiger baseball players and fans, and the hundreds of Thomas F. Chapman Leadership Scholars, Tom and Karen are leaving their mark on the hearts of countless individuals. "We support what we value. We try to perpetuate that value and its worth." For Tom and Karen, Clemson has always been an institution they deeply cherish and value, partnering with the university to influence and change lives.
Tom and Karen's greatest wish for future generations of Clemson students is for them to dream. Tom says, "If it's challenging; if it's difficult; that's how you change the world. " He quotes Walt Disney, "If you can dream it, you can do it." And with that, Tom says, "He didn't say it's easy for us to do, nor is it easy to dream it." But the greatest rewards come from our greatest challenges.
There is tremendous blessing in both giving and receiving. Being the beneficiary of someone else's generosity gives us hope - hope to dream and hope to pay it forward. The cycle of giving continues when we give to others to show our appreciation for what we have received. Serving as a champion for others is the mantle, which the Chapmans carry valiantly - marching silently to make a brighter and better pathway possible for those who benefit from their thoughtful generosity. We sincerely hope you will consider how you can become a champion for others.
Together, we can provide exceptional Clemson experiences that will enhance the course of someone's life; propel academic achievement, innovative research, and meaningful programs forward - replacing barriers with life-altering opportunities. Please consider the hope that you can provide and remarkable impact you can make during this marvelous season of giving.
We would be honored to work with you to craft a plan that will help you express your generosity and goals to support others in a meaningful way. Please visit our website for useful online resources or explore detailed information regarding IRA Charitable Qualified Distribution (QCD) benefits here. For information about gift planning and general estate planning, please download our free Wills Guide, designed to help you navigate your thoughts and plans before you visit with your attorney and/or financial advisors.
During this wonderful and magical time of year, we give thanks for all of our donors, like the Chapmans, who care deeply for others with compassion and warmth, bringing hope and joy to those in need. We are also grateful for those who give of their time and talent to make Clemson stronger and more accessible.