A Hearty Harvest for the Future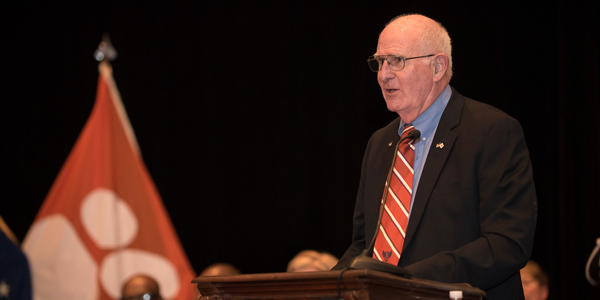 "With every deed you are sowing a seed, though the harvest you may not see." These words from Ella Wheeler Wilcox, an author and a poet, ring especially true when considering planned gifts. It is those who are most committed to a life of generosity who will selflessly plant seeds that will yield a harvest they will never see. Brig. General Chalmers "Hap" Carr ('60) is the epitome of this – having lived his life serving and giving to others, many of whom he will never meet.
Within minutes of meeting Hap, you will ask yourself, "How will I serve?" Hap's service to others has been far-ranging – from our military to our University to our community. He was raised watching his father serve others – through his military service and medical career. Hap never imagined that he would walk the same path. But that's exactly what he has done.
When Hap's Uncle Slick (Marvin Ellison '24) encouraged him to visit Clemson, it took some convincing. Hap was acutely aware that Clemson was a military school, and he was not interested. But Uncle Slick insisted that Clemson was no longer going to be a military school, and with that reassurance, Hap accepted the invitation.
He took a bus to Clemson in 1956, and he remembers that it was a "beautiful, beautiful May day" – the kind of day synonymous with spring at Clemson. Throughout the next two days, Hap knew he was home. He says, "I fell in love with the place. I got back on the bus on Sunday and had all of the application papers filled out, and all I had left to do was to take them back and get them signed. And that was it." Hap was now a Clemson Tiger.
In August, he began his Clemson journey. He was invited as a walk-on for the football team. With a smile and a laugh, he remembers how different Clemson was back then. Johnstone dorms – which have since been torn down – had just been built. As he prepared to enter, two cadets walked up to him, marked his name off the list, shaved his head and said, "Welcome to Clemson."
It was during class registration that his life took a turn he didn't expect. His advisor told him ROTC was still mandatory. He laughs now, thinking about how Uncle Slick pulled a fast one on him.
At Clemson, he was approached about pilot training. Throughout the next two years, he trained to become a pilot and started a path to join the Air Force. This new path also led to a switch in majors – from agriculture to industrial management – allowing him to build his business skills within the field of engineering. After graduation, he traveled to Alabama for the summer to get his commission. Before officially joining the Air Force in March of the next year, he worked as an ambulance driver in Charlotte. What could have been a small blip on the great radar of his life story became a catalyst for the rest of his life – for it was during this time that he met Emma Jeannette DeWitt– who had just graduated from nursing school. Hap and Jeannette married in 1962 and soon after, Hap joined the Air Force.
For his first 15 years in the Air Force, most of Hap's duties were piloting. He then spent five years working in the Pentagon at the highest level of the Air Force. After a series of different command-level assignments, Hap was promoted to General Officer. He then spent the last part of his military career working within inspector general.
Hap and Jeannette traveled often with the Air Force, but Jeannette continued to work as a nurse for 20 years. No matter where they moved, "her love of farming never left," he says. She was warmly known for her love of gardening and was often called "The Veggie Lady" because she was always sharing with others by dropping vegetables off on their doorsteps.
Hap and Jeannette were married for 57 years, during which they had two wonderful children and built a life of love and devotion – all while serving others. Retiring after nearly 30 years in the Air Force, most would have considered their professional goals complete. But Hap saw this as an opportunity to begin a new chapter. And Jeannette supported him every step of the way – through his career in the Air Force and his work after retirement within private industry for an Aerospace company. Hap says, "She was my wingman."
Their daughter, Martha, graduated from Clemson in 1985 with a degree in political science. Martha worked her way up the corporate ladder in retail management and leadership. Throughout her 28-year career in retail, she worked for two organizations – United States Army and Air Force Exchange Service (AAFES) and Bassett Furniture Industries. Martha's husband, Rick Pfeiffer, spent his entire career in service to our country, as a personnel management professional for AAFES. Rick's career took their family across the nation and around the world – before eventually moving back to the east coast. Rick sadly passed away in 2013.
Martha retired as the Vice President of Retail Merchandising for Bassett Furniture in 2013. She lives in Greensboro, North Carolina and has followed in the footsteps of her parents through her support of Clemson and as a volunteer in her community. She is particularly devoted to ovarian cancer research.
Hap and Jeannette's son Chalmers '90 met his wife Lori Anne '90, '92, while they were both students at Clemson. He was studying agriculture, and she was majoring in education. Calling them "first-time farmers," Hap recalls how Chalmers and Lori Anne began their farming career in 1990 in Madison, FL, growing peaches and vegetables. In 1995, the couple moved to Ridge Spring, South Carolina, to manage R. W. DuBose & Sons, a local grower. They leased the farm in 1999, changed the name to Titan Farms, and bought it in 2001.
It was then that Chalmers asked his father to help with the pack house. Hap was hesitant because he had not been on a farm since he was a kid. But Chalmers wasn't looking for someone who could run the pack house, he needed someone who knew how to manage people – and that was Hap.
Chalmers has also followed in his parents' footsteps, giving of his time, talent and treasure. He serves on several agriculture boards, both locally and nationally. Hap and Lori Anne actively give back to Clemson. They established the Chalmers Carr III '90 and Lori Anne Carr '90 Creative Inquiry Endowment, and Lori Anne has served on several boards, including: the university's Board of Visitors; the Clemson University Foundation board; Clemson's College of Agriculture, Forestry and Life Sciences campaign board as the chair; and currently on the Clemson Alumni Association board.
Chalmers and Lori Anne have grown Titan Farms into the largest peach grower on the East Coast — with more than 6,200 acres of peaches in production, along with 600 acres of bell peppers and 1,000 acres of broccoli. But even as the farm harvested wide success, Jeannette was still dedicated to her own smaller-scale operation. She became the backbone of Ridge Spring Farmer's Market – providing produce to the community. Jeannette passed away April 1, 2019, after a battle with cancer, but on Saturdays at the market, you can still feel her spirit and passion – as it lives on in the people of the community and the fruits and vegetables that are shared there with love.
To honor Jeannette's memory, Hap established the Emma Jeannette Carr Memorial Endowment to advance vegetable gardening education and outreach through the Clemson Cooperative Extension Service. Additionally, all proceeds from the sale of produce from the flat-bed trailer overflowing with fruits and vegetables grown at nearby Titan Farms are to be donated to the endowment in honor of her love of gardening.
Hap has lived his life devoted to making the world better. And through it all, he has continued to serve our wonderful University and generations of students. With his time, talent and treasure, Hap is committed to giving back to a place that has given him so much. He says, "I have always felt that the Lord gave me a lot and I need to give back."
The Carr Family Lounge in the WestZone at Memorial Stadium is named in the Carr family's honor. And in addition to the Emma Jeannette Carr Memorial Endowment, Hap and Jeannette designated Clemson University as the beneficiary of a life insurance policy, which will establish the Chalmers R. "Hap" Carr, Jr., '60 and Jeannette D. Carr Unrestricted Endowment for Excellence, which will be directed to the areas of greatest need university-wide, and the Chalmers R. "Hap" Carr, Jr., '60 and Jeannette D. Carr Clemson Corps Grant-in-Aid Endowment.
Hap and Jeannette's endowment to support Clemson Corps will be crucial for our nation's future military leaders, and their unrestricted endowment will ensure that Clemson is able to meet the ever-changing needs of our students in the future.
Hap has also devoted his time to Clemson – including involvement with the Clemson Alumni Association. In 2011, Hap was honored with the Clemson Alumni Association's Distinguished Service Award. Given to former students who have not only devoted their life to professionalism and public service but who have also demonstrated a lifelong dedication to Clemson University, this is the highest honor that the Association can bestow upon an alumnus or alumna. The three main criteria – dedication and service to Clemson University; personal and professional accomplishments; and devotion to one's community and public service – summarize Hap's life – a life devoted to serving others.
Most notably, Hap has been actively involved in Clemson Corps, which exists to recruit, unite and support brave men and women who will use their Clemson education to lead the nation's military. Hap and Jeannette's planned gift supporting Clemson Corps ensures that future generations of military leaders will have the necessary resources to receive a Clemson education – while also honoring Clemson's rich military heritage. You can learn more about supporting Clemson Corps and Clemson University Army and Air Force ROTC programs through annual scholarships and endowments here.
While serving as Clemson Corps President, Hap facilitated a strategic analysis and concluded that, "we needed to expand our mission to keep the tradition alive." For all the amazing things Hap has done throughout his life, he considers his greatest legacy to be his participation in the Clemson Scroll of Honor. In reflecting on the project, Hap says, "That is the legacy that I feel most proud of." He continues, "The Scroll of Honor project demonstrated the true giving spirit of Clemson. It was the collaborative efforts of the Clemson Corps, the Alumni Association, Clemson Athletics, IPTAY, the students, and many Clemson alumni and friends. It was truly a ONE CLEMSON effort."
Hap's generosity toward supporting Clemson Corps and the Scroll of Honor is a representation of the many ways in which we can give back. He says, "There are ways to give back aside from money. It's time and effort."
Today, when you visit Memorial Park and read the Clemson Scroll of Honor, you see listed the Clemson alumni who have given their lives in service to their country – from the Spanish American War through current operations. Hap and all those who have given of their time to conceptualize, establish and enhance the Scroll of Honor are dedicated to giving the Clemson Family and our visitors a glimpse of the University's tradition of service. But mostly importantly, they have given us a space to honor and memorialize Tigers who have given the ultimate sacrifice to our country.
The men and women who have made this sacrifice planted the seeds for where we are today – as individuals, as a University and as a nation. Hap certainly feels their influence on his life – how it was influenced by the seeds that were planted by those who came before him, especially those who served our country.
Our lives are influenced from what is sowed long before our time. Hap says, "I have had some tremendous mentors in my life, starting with my parents." Teachers and command officers in the Air Force – among many others – also influenced his life of service. And now that the seeds planted before him have matured into his many accomplishments, he has planted his own seeds to provide a rich harvest for the future. From his time at Clemson to his military career; from his work within the private industry to his dedication to Titan Farms; from his recognition of his good fortunes to his dedication to giving back; Hap has – and continues to – sow the seeds of the future. Much of the results of this harvest Hap will never see. But this is his legacy – his mark of true generosity. And he feels blessed that his legacy lives on through the lives of others – especially his family. Through his example and encouragement, his children have followed in his footprints as Clemson Tigers and philanthropists. His grandchildren are his legacy – and just as Hap has done, they will plant the seeds for the next generation. He is especially proud to share that his granddaughter, Katie Pfeifer, is a 2015 Clemson graduate, saying, "The Clemson legacy lives on." And through future generations of Clemson students, his legacy of service will also live on.
Just as Hap and Jeannette's, your planned gift to future generations can ensure Clemson University will meet the ever-changing needs of our students, promising Clemson's tradition of academic and athletic excellence. They have made their mark on Clemson – from current students benefitting from their generous spirits to the Scroll of Honor to the future generations of students.
In the season of harvesting, we implore you to ask yourself, "What seeds can I plant today to produce the harvest of the future?" And as you reflect on the answer to this question, remember: those you serve today will make a difference tomorrow.
We sincerely hope you will reach out to our team for assistance in deciding how you can make a difference for future generations through a planned gift. Our website features useful online resources that we encourage you to explore. Information about IRA Charitable Qualified Distribution (QCD) benefits can be found here. For information about general estate planning, please download our free Wills Guide, which designed to help you navigate your thoughts and plans before you visit with your attorney. And of course, we would also love to hear from you directly by emailing us at [email protected].