Planting the Seeds for the Future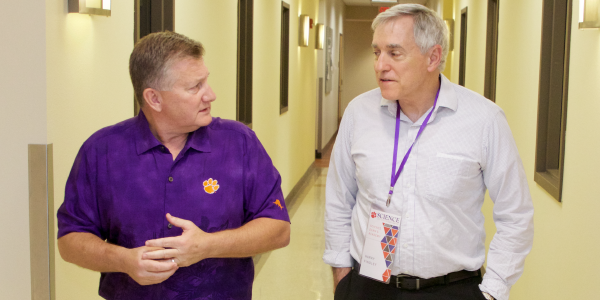 Clemson's proud tradition of military excellence dates back to its founding as a military school for cadets seeking the highest academic excellence. In 1916, ROTC was instituted under the National Defense Act, and in 1917 the entire senior class enlisted in World War I. This was the first of many collective acts of bravery exhibited by Clemson University students and alumni. To date, more than 10,000 Clemson alumni have served in the armed forces, and more than 490 have given their lives to secure the freedom of others.
As a university with strong military roots, Clemson is forever thankful for our veterans and their service to our country. Welcoming veterans into our ranks is an honor, and the University is committed to providing our student veterans with the support needed to make their Clemson Experience the best it can be.
It takes a strong constitution to lead a life devoted to service and science. One must be dedicated to purposes greater than oneself. Harry Findley '71 exemplifies that dedication. From his time serving in the Armed Forces to teaching to giving back with this time, talent and treasure, Harry has always been committed to paying it forward. In that spirit, he has ensured the education of students in the field of biology for years to come through an estate gift that supports the previously established Dr. Harry Findley '71 and Catherine T. Findley Student Assistance Endowment. This endowment provides support for graduate students studying microbiology or biology.
From an early age, Harry's life was influenced by service. The son of a career Air Force officer, Harry was born at Donaldson Air Force Base in Greenville, South Carolina. His father's career required frequent moves, and the Findley family was transferred often during Harry's father's service – from locations like Arlington, Virginia to England.
Upon his father's retirement, Harry completed high school at T.L. Hanna High School in Anderson, South Carolina and endeavored to attend an out-of-state university. After his freshman year out of state, Harry returned home to work part-time and attend night school. Shortly after, he was drafted into the U.S. Army and completed Basic Training and Airborne School at Fort Benning in Georgia. Harry served a 12-month tour in Vietnam with the 173rd Airborne Brigade from 1966-1967. He was called home after that tour to serve as an advanced infantry instructor at Fort McClellan, Alabama, preparing the brave young men for the difficult times they would face ahead.
After earning an honorable discharge, Harry entered Clemson University in the summer of 1968 with the aid of the G.I. Bill – beginning his career in science. While studying biology as an undergraduate, he became very involved at Clemson, from his membership in the Microbiology Club and Gamma Sigma Delta, to the thriving student life outside the classroom.
Harry recalls fond memories of days on Lake Hartwell, in the Experimental Forest, and time spent preparing for Homecoming weekend and its football games. His experience culminated in "the feeling that Clemson was a wonderful place to be, and how fortunate I was to be there!"
Harry's admiration and dedication to the school led him to continue his education and pursue a master's degree in microbiology, which would help him launch a successful and meaningful career as a cancer researcher. "I was very appreciative of my opportunity to attend graduate school at Clemson, and for the graduate stipend that made this possible," Harry says. "I was also inspired by my graduate advisor, Dr. Mike Johnson of the microbiology department, and other faculty I came to know during my graduate training. So I wanted to give back to the graduate program and help support these opportunities for future students."
An alumnus of the College of Science, Harry expressed his respect of the vision of the college and the overall growth of the University.
"It's also clear that Clemson continues to grow as a premier research university in science and the life sciences, along with great strides in genetics and molecular biology research. I'm pleased to be able to support some of this growth via the Life Sciences Graduate Program."
Clemson's burgeoning as a more prestigious university is due to the accomplishments of alumni like Harry – those who appreciate the wealth of opportunities provided to them by Clemson and are committed to paying that forward to the next generation.
Harry's connection to the Clemson Family inspired him to create a legacy at Clemson – a legacy that will have a cascading effect of change and growth for Clemson students for years to come.
When Thomas Green Clemson envisioned the future, he saw a "high seminary of learning" to benefit the public good. Since then, Clemson University has been unwavering in its dedication to this mission – even as it has evolved and matured into a leading, modern land-grant university. We've never lost our focus on the reason we exist. Clemson University exists to make the world — for all people — a better place through the power of education, creativity, curiosity and scholarship.
With more than 5,000 students in 130-plus graduate and professional degree programs, Clemson University's faculty and students are reimagining the world we live in. Harry is a wonderful example of the impact of Clemson's Graduate School. Those who came before Harry planted the seeds to yield a great harvest for the future, providing him with the financial support needed to explore the world of science and research. Today, he is planting the seeds for tomorrow, ensuring future generations of Clemson graduate students have the hearty harvest needed to succeed and thrive at Clemson – and beyond.
We hope that Harry's story will serve as a great inspiration to you to consider how your legacy can make a powerful impact. What seeds will you plant today that will become the harvest for future generations? We are here to help you explore the ways in which you can make a difference today, tomorrow and forever. We have useful online resources on our website or you may write to us at [email protected]. In addition, you can find information about IRA Charitable Qualified Distribution (QCD) benefits here. For information about general estate planning, please download our free Wills Guide, designed to help you navigate your thoughts and plans before you visit with your attorney.