Honoring Clemson's Land-Grant Mission through Time, Talent and Treasures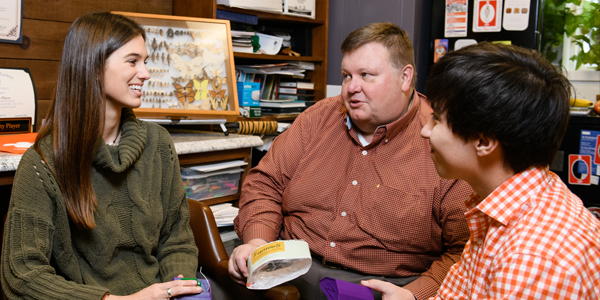 W. Kirby Player, Ph.D. knows firsthand what it means to describe Clemson as "home." He has called this University "home" for as long as he can remember. Growing up less than three hours away in Bishopville, South Carolina, Kirby's loyalty to Clemson began at an early age and continues to this day. Along with Kirby, his brother, father, grandfather and numerous extended family members are all Clemson alumni, and many of his family are among those whose influence has transformed Kirby's life. Tiger Rag, the roar of the Clemson cadence count and the Clemson campus atmosphere are a part of his greatest memories growing up.
While an undergraduate, Kirby served in Student Government, and he was elected as student body president in 1982/83. During his college career, he was involved in several campus groups. He was a member of Kappa Sigma, Tiger Brotherhood, the University Chorus, Campus Crusade for Christ and the Clemson Collegiate Future Farmers of America (now CCFFA). He was also a University Union student staffer and inaugural campus tour guide. Kirby fondly recalls Student Government retreats and traveling with the chorus each spring. These types of extracurricular activities, so prevalent at Clemson, helped him foster meaningful relationships with faculty, administrators and fellow students. Among his most memorable Clemson experiences was watching the victorious Clemson Tigers win the 1981 National Football Championship. In 1985, while attending a Clemson Christian Fellowship meeting on campus, Kirby met Marilyn, his future wife, in the Poole Agriculture Center Auditorium, often referred to fondly as the "P & A" (Plant and Animal Sciences). They built a friendship for 22 years, which later blossomed into love. The two were married in 2008. Marilyn, who earned her masters of education at Clemson, served as an elementary school teacher for more than 20 years. She taught in the surrounding Clemson area, Columbia, South Carolina and in Istanbul, Turkey for five years.
Very proud of his family's legacy in agriculture, Kirby is also proud to be a third-generation Clemson graduate. At Clemson, Kirby earned a bachelor's degree in agricultural education and a master's degree in parks, recreation, and tourism management (PRTM) with an emphasis in human resource development. In 2014, during the 28th year of his Clemson career, he earned a doctorate in therapeutic recreation - a special moment for him and the University he has so proudly served for many years.
Kirby serves as a lecturer in the Agricultural Sciences Department in the College of Agriculture, Forestry and Life Sciences (CAFLS) and has a joint appointment in the PRTM Department. He is also a member of The National Agriculture, Alumni and Development Association (NAADA) and the International Association of Programs of Agricultural Leadership (IAPAL). Kirby refers to his role at Clemson as a "mission, not a job," and that positive approach has a profound impact on our students and their educational experiences. He tells his students, "It is my greatest desire is to make a difference in your life!"
His commitment to our students - through teaching, coaching, advising and mentoring - has played a significant role in their success. His students leave Clemson feeling empowered and prepared for the next step in life. Like so many other professors and mentors at Clemson, Kirby is shaping the lives of our world's future leaders.
A farm boy from Bishopville, South Carolina, Kirby was raised on a on a cotton, corn, wheat, peanut and soybean farm in the Pee Dee of South Carolina. His brother and niece have continued this legacy and are the 4th and 5th generations to steward Pondville Farms.
Kirby is also the director of South Carolina's Palmetto Leadership Program for the Environment, Agriculture and Forestry (PLEAF). PLEAF is housed in CAFLS, Clemson Extension and the Public Service and Agriculture Division and is supported by key industry related cooperating partners from around South Carolina.
This program is a two-year intensive instructional, experiential learning and networking curriculum designed to facilitate personal and professional growth and success, while sharpening character and leadership skills for each participant. PLEAF candidates are the brightest and best of South Carolina's current and future leaders engaged in the industries of agriculture, forestry and all aspects of stewarding of our state's natural resources and environment. Upon completion of the Palmetto LEAF program, graduates will have a comprehensive set of tools, experiences and contacts which will allow them to lead in their community, county, state, nation and within their industry.
Kirby says, "The importance of South Carolina's agriculture, forestry and natural resources industries cannot be overstated in terms of both economic impact and their role in shaping the lives of South Carolinians. That's why Clemson decided that now is the time to provide an avenue through which the state's best and brightest can lift these industries even higher and take the next steps in their careers."
As a prominent leader within CAFLS - the core of Clemson University's land-grant heritage - Kirby's mission is to "progress Clemson's longstanding and effective tradition of promoting and supporting agriculture" and "to see Thomas Green Clemson's vision of an agricultural university continue to thrive."
Kirby's personal and professional Clemson experiences are woven into the fabric of his life. The University's vision and mission that "agriculture matters at Clemson," has greatly influenced Kirby's decision to give back in a way that is in keeping with the great foundation Clemson has given him. Kirby has faithfully supported the University annually since his graduation in 1983, proudly stating, "I have seen the difference current and planned gifts can make." To honor his family legacy, Kirby and Marilyn established a generous estate gift to support the Cleland Blain Player, Jr. '48 & Player Family Memorial Endowment in memory of his father and the Player family. Cleland Blain Player, Jr. was a 1948 agronomy graduate, a farmer and an outstanding leader in agriculture. This endowment provides support for CAFLS alumni activities that engage current CAFLS students.
We are forever grateful to Kirby and Marilyn for their wonderful leadership, thoughtful generosity and lifelong commitment to the future of our great University. "Being intentional about giving back to the institution that has given so much to you," he says. "And to be able to create a plan to give is humbling and an honor." Kirby is an amazing advocate for our founder's vision to support alumni engagement through the act of giving annually and for the future. He is a remarkable representation of how our University's professors play a key role in our students' lives - not only as educators but also as mentors. It is this kind of commitment and investment that ensures our students find success while at Clemson and beyond.
It would be a pleasure for our team to assist as you consider how you too will invest in the future of our Clemson students. We are happy to offer information and guidance for planning your charitable giving to the University. We have useful online resources on our website or you may write to us at [email protected]. In addition, you can find information about IRA Charitable Qualified Distribution (QCD) benefits here. For information about general estate planning, please download our free Wills Guide, designed to help you navigate your thoughts and plans before you visit with your attorney.