Fueling future generations of FIRSTS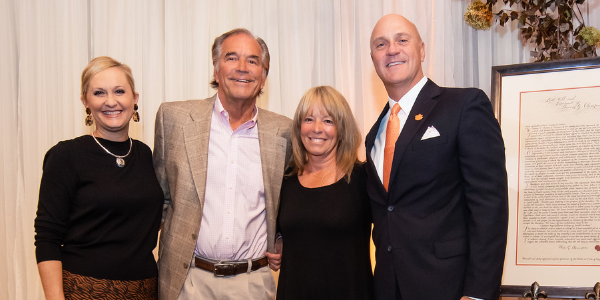 Aspiring to be first is inherent in many of us. It is a goal worth pursuing; however, it is not without difficulties. For first-generation students, college comes with a set of special challenges for these student and their families. First-generation college students are navigating uncharted territory, as they are the first in their family to attend college. They face a new set of standards while adjusting to the challenges of higher education, and many need additional support so they may be competitive and successful toward degree completion. A strong support system makes all the difference. Clemson is committed to provide resources and programs that give our first generation students a pathway to graduation and prepare them to enter the workforce. These resources include financial support from scholarships. First-generation student scholarships alleviate additional stress, allowing our students to focus on their education and the college experience.
Support for first-generation students changes their life trajectory for the better and gives students an opportunity to forge a path for success.
Roger Greiner is uniquely aware how giving generously can significantly impact a first-generation student's future. His commitment stems from his desire and vision to remove financial barriers so that our first-generation students have opportunity to succeed at Clemson. A New York native and graduate of the University of Miami with a bachelor's in business administration, Roger enjoyed a successful career as an insurance company executive. After retirement, Roger looked for a place to replant his roots – and he landed "where the Blue Ridge yawns its greatness."
As he transitioned into the Clemson area, it did not take long for him to see that retirement would involve giving back in a substantial way. Through friends – both new and old – he quickly became involved in the community and the University. "Years ago, going down to Clemson and meeting students… I was impressed with the attitude they had toward their aspirations and their dedication toward their goals," says Roger.
"Clemson is not the quiet sleepy town it once was," he says. "[I'm] very impressed with the direction of the school, the quality education it provides, and the dedicated students that matriculate here. Clemson continues to attract high achieving students who will have a bright future."
Roger's dedication also extends to the surrounding community. Shortly after retiring to Clemson, he became involved with Zest Quest, a local program focused on mentoring and providing support for at-risk students in local public schools. Roger started mentoring students at what was then A.R. Lewis Elementary School in Pickens, South Carolina.
Roger met with students weekly, tutoring them on subjects they found challenging. "My objective was to instill in the students the importance of practicing what they learned in school. We spent time going over the day's lessons, and if they demonstrated that they got it, I would split the time and go outside and play with them, shooting basketball or throwing football." These interactions fostered a strong relationship between Roger and his mentees, as the students felt comfortable speaking about themselves, their interests, goals and challenges in life.
Roger felt especially inspired by their stories of dedication and perseverance amid hardship. He would do "anything [he] could to inspire them and keep them motivated" to overcome obstacles in their lives. Roger provided mentorship for the students as they faced challenges with school and home life, encouraging them to stay focused and continue their education.
Roger and his students often attended the annual Clemson Orange and White Spring Football game. As an avid sports spectator, Roger quickly became "All In" for Clemson. He says, "I'm enamored with southern hospitality. Some friends got me involved with IPTAY and other Clemson activities, and I became interested in supporting the students and the Clemson Family monetarily."
Through his work to mentor at-risk students in the Clemson community and knowing that some of those students may be the first in their family to consider college, Roger found the Clemson FIRST Program was meeting an important need in the lives of students. Inspired by Clemson students who were to be the first member of their family to attend a four-year institution, Roger put that inspiration into action. "I had a lot of empathy for these students who were dedicated to furthering their goals and embarking upon a field of study that would alter the course of their lives. Part of the desire of my current investment is to know that I am making a direct impact, and helping to make life a little easier for somebody – to know I'm doing good in my lifetime." To this end, he and his wife, Janet, established The Roger & Janet Greiner Annual FIRST Grant-in-Aid, which provides support to a first-generation student who participates in the Clemson University FIRST Program. Clemson is proud of its first-generation students and is committed to their overall success. The FIRST program helps these students adjust to the college experience by offering a variety of opportunities and resources – from academic support to social activities.
Not only have the Greiners given generously during their lifetime, they have also made provisions in their estate plan that will continue to support first-generation students when they are no longer here to personally cheer them on. The Roger & Janet Greiner Clemson FIRST Endowment will give perpetual support for students participating in the Clemson FIRST program. In addition, The Roger & Janet Greiner IPTAY Endowment, also established through the estate gift, will provide grants-in-aid for our student-athletes.
Roger continues to mentor students, from elementary through high school. His mission is to see the next generation succeed – especially our first-generation students at Clemson.
The generous support from Clemson's alumni and friends, like Roger and Janet, provides future generations with access to successful programs that support and aid students during their Clemson Experience. At Clemson, we believe in the value of hard work, and we promote and pursue that work tirelessly. We believe that our collective mission as a University is to positively impact the lives of our students to maximize their success and in turn position them to prosper as they change the world. Please consider how you can impact our students and their journey toward success. Our students are high-achieving and stand ready to learn and take on new challenges every day. As they strive to make a difference in the lives of others and leave a lasting impact on our communities, will you come alongside and help ensure the Clemson Experience continues to leave its indelible mark?
If you're interested in designating Clemson University as the beneficiary of your asset by will, trust or beneficiary designation form, we invite you to learn more about bequests here. You can explore the many ways you can make a powerful difference in our University's future by including Clemson in your estate plans here.