The Legacy of a Clemson "Renaissance Man"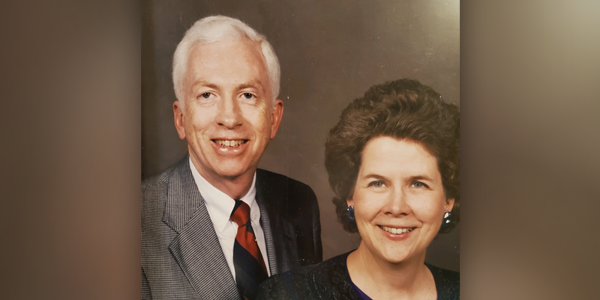 The late William C. Nettles, Jr. of Salem, South Carolina, known fondly to many friends and colleagues as "Bill," is remembered as a true "Renaissance man." His fierce intellect and profound knowledge of culture and nature went hand in hand with his charismatic personality. Bill had a deep desire to leave the world a better place and to do all he could to better the lives of those around him. His love for people and his immense generosity and influence continue to significantly impact the Clemson community today, especially Clemson students, faculty and staff.
Bill's deep sense of generosity found its root in his family legacy. He was born in 1934 to a family who had been an integral part of the city of Clemson for decades. His parents, the late William C. "Carl" Nettles, Sr. and Ruby Stevenson Nettles, helped build the Clemson community of which Nettles Park was named in their honor. The Nettles gave the land for the park to the town so that it could be available and enjoyed by all. Bill learned the importance of helping others from his parents' desire to extend their generosity to everyone. The Nettles family viewed philanthropy as a way to inspire others to share in the beauty of nature, conserve its resources and enhance the lives of people around them.
Bill's father graduated from Clemson in 1930 with a B.S. in agriculture and entomology and went on to earn his M.S. in entomology from Ohio State University in 1933. Carl returned to South Carolina and served Clemson University with the longest continuous service record in the School of Agriculture and nationally as an Extension Entomologist-Plant Pathologist. Carl retired in 1972 as Professor Emeritus of Entomology. His accomplishments and his ability to inspire his fellow man is the legacy from which Bill gained his foundation.
In sharing moments with his father, his passion for the study of entomology ignited Bill and fueled his interest in addressing environmental issues. This inspiration led Bill to attend Clemson and graduate in 1955 with a B.S. in agricultural chemistry, known today as biochemistry, and then to earn his M.S. in entomology in 1959. Bill was a member of the marching and concert band and the track and cross-country team. His commitment to education along with a strong work ethic, modeled by his family, enabled him to pay his way through college by delivering newspapers and working as a chemist for the Clemson University Fertilizer Department.
Some of Bill's fondest memories were those made at Clemson sporting events. He often shared the story of his favorite road trip to the University of Maryland for the first ACC Cross Country track meet and then to cheer on the Tigers during the 1954 Clemson-Maryland football game. Bill was a senior class officer and a member of the Senior Platoon, a great honor and deep bond shared with fellow cadets who went on to serve in the military. Bill's senior class (1955) was the last group of military cadets to graduate under an all-male military status, as the University became civilian and coeducational. Bill loved this country and served in the US Army Reserve at Fort Monmouth, New Jersey and Fort Bliss, Texas from 1958 to 1960.
Bill's intellectual pursuits, which centered in environmental studies, led him to earn his doctorate in toxicology from Rutgers University in 1962. He spent 32 years working as a research entomologist/toxicologist for the United States Department of Agriculture (USDA), first in Baton Rouge, Louisiana at the Louisiana Agricultural Experimental Station, and finally in College Station, Texas at the USDA/ARS Pest Management Research Center and the Texas Agricultural Experiment Station. His field of expertise and study ranged from insecticides and pest management to boll weevils and butterflies, as well as the study of environmental issues. He enjoyed hosting and guiding the research of visiting entomologists from around the world. Bill's enthusiasm and intellect continually attracted new generations of entomologists, as he was dedicated to finding solutions to meet emerging environmental challenges. Bill also spent time traveling the globe speaking at conferences and sharing his research with fellow entomologists. Increasing knowledge and awareness of our ecosystems among diverse cultures gave Bill a unique opportunity to stand out among his peers as an esteemed expert in his field.
Bill and his wife, Patricia "Pat" Maguire, shared 37 wonderful years together traveling the world, experiencing different cultures and united in their passion for the natural environment. Pat graduated from the University of Texas/Austin with a mathematics degree and then received an accounting degree from Louisiana State University. Her career in IT often necessitated travel to universities in Texas and Louisiana, where Pat met Bill. The Nettles enjoyed an insatiable desire for the outdoors and found the natural world to be rejuvenating and inspiring.
After retiring from the USDA, Bill and Pat returned to Clemson, and Bill became an adjunct professor for the Department of Entomology. Both Bill and his father gave this University the priceless and invaluable gift of their time, talents and passion for teaching, research and public service.
The couple continued to enjoy their leisure time exploring the outdoors through running, biking, hiking and sailing Flying Dutchman boats. In quieter moments, they cherished time spent with family and friends. Pat was a talented quilter, and she enjoyed sharing her passion for quilting with others. Sadly, Pat lost her long battle with lung cancer in 2004.
Throughout their lives, the Nettles routinely invested in the needs of the University. They also made a significant provision in their estate plan to support future generations of Clemson students and faculty. They believed their investment in Clemson's future would continue the legacy of influence and support to which Bill and Pat had dedicated their lives.
To honor the work and contributions of Bill's parents in the Clemson community and to highlight the footsteps in which Bill followed his father, the Nettles' estate plan included provisions to create the William C. Nettles, Sr. '30 & Dr. Williams C. Nettles, Jr. '55 Distinguished Professorship in Entomology Endowment. This endowment enables the University to honor excellence in faculty research, teaching and service.
Bill and Pat never had children of their own; however, they shared a deep passion for making resources available for Clemson students with financial need by creating the Dr. William C. Nettles, Jr. '55 & Patricia Maguire Nettles University-wide Scholarship Endowment. The Nettles understood the need for unrestricted universitywide scholarships and the immense value of helping students achieve their dream for a college degree.
In tandem with their desire to make the greatest impact on student's lives, the Nettles also included a plan for the creation of the Dr. William C. Nettles, Jr. '55 & Patricia Maguire Nettles Unrestricted Library Endowment. For the Nettles, supporting the library would help the entire student body and faculty along with members of the larger Clemson community who enjoy campus resources.
The beauty of our natural world and the passion Pat and Bill shared in providing a way for people to grow in knowledge and interest in the conservation of our environment inspired them to create the Dr. William C. Nettles, Jr. '55 & Patricia Maguire Nettles Endowment for the South Carolina Botanical Gardens. The South Carolina Botanical Gardens on the Clemson campus is a premier site for experiencing nature. The gardens are available for the enjoyment and education for all people, open and free-of-charge 365 days a year from sunrise to sunset.
In addition to planning for future charitable gifts, the Nettles' vision included generous and faithful current support. Pat and Bill honored the memory of Bill's parents by faithfully giving to the W. Carl Nettles, Sr. and Ruby S. Nettles Memorial Endowment in Entomology and the W. C. Nettles Endowed Memorial Grant Fund. Their amazing philanthropy also extended support to the Catherine G. Nettles Cutter, Ph.D. '92 Graduate Student Assistant Endowment in honor of their niece – the daughter of Jim and Gail Nettles.
Throughout the years, Pat and Bill supported the University through gifts to the Calhoun Lecture Series, Clemson University Tiger Band, the Brooks Center for the Performing Arts, Scholarships for Scholars, the SC Botanical Gardens and the Class of 1955 Reunion Fund. Bill served as an important leader in helping his 50th reunion class raise the funds to establish the beloved '55 Exchange, home of Clemson's famous and delicious ice cream. Clemson ice cream has been a tradition since the 1920s, and thanks to a generous gift from the class of 1955, it continues to be a valued part of the Clemson Experience. The class gift enabled operations to be completely student-run and student-focused, allowing students to develop skills in food processing, packaging and retail. Every aspect of the Clemson Experience has felt the touch of the Nettle family's legacy of dedication, faithful service and transformational philanthropy.
Bill married Jean Grace McGonigal in 2006, and they enjoyed a wonderful life together. Their family was a bedrock for them. Jean's four children and ten grandchildren embraced Bill immediately because of his kindness, intelligence and generosity. This blending of lives enabled each of them to enjoy many happy years together.
Many were deeply heartbroken when Bill passed away in December of 2017 after a brief illness. Bill's life made more than just a lasting impression upon the Clemson community. Bill is long remembered by friends, colleagues and his family as a man whose intellect, passion for learning and deep conviction to love and serve others enriched and changed the lives of those he touched for the better.
I, too, count myself among those whose life Bill deeply influenced. Our many years of friendship gave me the opportunity to admire his passion for his work and to see the commitment he had to his family and friends. It was a joy to know Bill, Pat and Jean and be a part of their lives. It was also a tremendous honor to help them ensure a lasting legacy at Clemson.
The Nettles always wanted to know how they could secure the greatest impact and create support that helped everyone. They also shared a burning desire to reach students and faculty who had the potential for greatness. The Nettles were convinced that the Clemson Experience was the best legacy that they could leave.
Please consider joining the company of those who have gone before you who paved the way to ensure the tradition of excellence in education at Clemson continues. Investing in this great University – during your life and also through your estate – can create opportunities for the growth and success of our faculty, staff and students today, tomorrow and forever.