Helping Others Bring Change to the World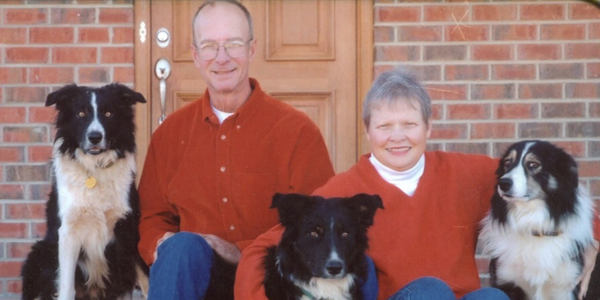 Since 1993, Bill and Susan Orr's generous gifts to the University have made and continue to make a difference for generations of Clemson Tigers.
Truly selfless people are the exception – not the rule. They inspire others to rise to the challenge of making a difference in this world. Yet so many of these remarkable people – sacrificial and humble in nature – remain unknown. The late William (Bill) Orr, '69 and his wife Susan, retired, have epitomized living a quiet, simple life while selflessly making a difference in the lives of current and future generations of Tigers. We are forever grateful for the impact Bill and Susan have made on our great University and for devoting their lives to serving others. The Clemson Family was heartbroken when Bill passed away from sudden illness last year. His kindness, thoughtfulness and generosity is the legacy he has left behind. And our world – especially the Clemson community – is a better place for having him in it.
Bill grew up in the Upstate of South Carolina and attended high school in Greenville. After graduation, Bill said he had a significant choice to make: "It was always between Furman and Clemson. My father was a Furman man. However, engineering seemed like a better future." Clemson became the obvious choice, and in 1965, he enrolled in mechanical engineering. On his first day at Clemson, as a member of ROTC, Bill's curly hair was shaved and he was given a "Rat Hat". He wrote all of the 1965 football scores on his hat and kept it close for more than 55 years.
Having attended a small high school, adjusting to life at an academically rigorous university had its challenges. Suddenly, peers and instructors who performed at a high caliber surrounded him. "I'll never forget when I made a subtraction mistake on a test and got an 89-point-something, and my professor wouldn't round my grade after I went to him and explained," Bill recounted. "There were a lot of lessons learned in those first engineering classes." Clemson's high educational standards set the pace for Bill's future success in life, helping him see the potential impact he and his classmates would have on the world and on future generations of students. During those years at Clemson, in the midst of the Vietnam War, Bill participated in the American Society of Mechanical Engineers and was a member of ROTC. After graduation, Bill went on to serve as an Army reserve officer.
During basic training in March of 1971, Bill met Susan on a blind date, thanks to Clemson alumnus Denny Harold. Bill and Susan were married one year later. Susan said:
"When we were dating, Bill took me to Clemson several times and we always stopped at June and Dave Huff's. I had never been to a big time college football game; it was thrilling seeing the team run down The Hill, orange balloons lifting into the sky, fans (young and old) yelling, and the crowd gathering on the field after the game. The Clemson Family immediately embraced and adopted me – and my blood runs orange. Win or lose, Bill loved his Tigers and the many Clemson friends he made over the years. We have been blessed to have them in our lives. Even after all of these years, Mary and Larry Bowman continue to host annual football weekend reunions. In 2022, we will all gather to remember Bill. Bill's classmates, their spouses, their children and their grandchildren – our Clemson Family."
Together, Bill and Susan crafted an active and adventuresome life – moving often to explore different areas of the country that also allowed Bill to pursue new fields of work. They lived in Virginia, Alaska, Texas, Connecticut, Georgia, North Carolina, South Carolina, Florida and Oregon.
Bill utilized his mechanical engineering degree in a variety of positions, then he pursued a degree in audiology and launched a new career in the medical and public service industries. In 1974, Bill and Susan moved to Anchorage, Alaska, where Bill worked for the State of Alaska Public Health serving the native population. He often traveled to the small villages throughout the state – trips he found educational and fascinating. Susan's career remained constant, working with IBM for 30 years. "She made the money. I managed and invested it," Bill said. Even amid frequent moves across the country, Bill and Susan remained involved with his classmates and the University by giving back to the Clemson Alumni Association and as loyal IPTAY members.
Bill and Susan were always active and interested in everything life had to offer – travel, museums, monuments, parks and theaters, and they enjoyed playing tennis and golf. But above all activities, Bill and Susan loved their many Border Collies and Great Pyrenees. They competed throughout the United States and Canada in sheepdog herding trials. Bill and his dog Boone were recognized across the country as a winning team. Bill and his dog Sly were the National Reserve Champion in 2011.
In 1980, their young son Tyler became ill, and the family moved to Austin, Texas to better care for him. Bill and Susan experienced a great loss when Tyler passed away when he was only three years old. "Our son Tyler never got the opportunity to be a Tiger due to his fatal spinal muscular atrophy disease (SMA). He died at 3 ½ years." SMA is a rare genetic condition in which muscles throughout the body are weakened because cells in the spinal cord and brainstem do not work properly. Although diagnosed with SMA at a very young age, unfortunately, there was no cure for Tyler. The loss of a child is devastating. However, amid suffering profound pain and loss, Bill and Susan remained committed to helping others make a powerful difference in the communities they served. And through it all, they continued to support one another – in love and loss.
As a way to continue honoring Tyler's memory, Bill and Susan established the Tyler William Orr Memorial University Wide Scholarship Endowment, making an outright gift and later creating a charitable estate gift upon their passing. In addition, they established support for scholarships through a charitable gift annuity and have established the Susan T. and William M. Orr Sustainable Agriculture Assistantship Endowment.
In loving memory of Tyler, Bill and Susan's legacy will ensure that underrepresented students will have the opportunities and resources to be successful and will be provided with the tools necessary for the brightest future.
Susan appreciates her many years with Bill and every Clemson experience. She says, "When Bill was diagnosed with non-Hodgkin's lymphoma in June 2020, he was very grateful for the many adventures in his life, and especially for his friends and family. He said his 'bucket list' was complete. He was brave and gracious, which is the greatest gift he gave me."
Bill's close relationship with his Clemson Family and his faith in Clemson's superb educational opportunities gave him the upmost confidence in leaving a legacy at our University. Yet for him, it had nothing to do with simply being remembered. He said, "This gift is about providing a resource for others to do the best they can in a fantastic university environment. It's not about me; it's about helping others determine what they can do for the world. If they can bring change, then that's all I could ask for, and that's wonderful."
When asked what advice he would share with future generations, Bill's advice was simple: "Do your best!" And with the support of Bill and Susan through their planned gifts, our students will become the progressive leaders of tomorrow – just as Bill envisioned.
To learn how you can follow the example of Bill and Susan and rise to the challenge of making a difference in this world, visit our website or email us personally at [email protected]. It would be our immense pleasure to assist you in exploring the many ways you can leave your mark at Clemson – for generations of students today, tomorrow and forever.