Leading the Way Forward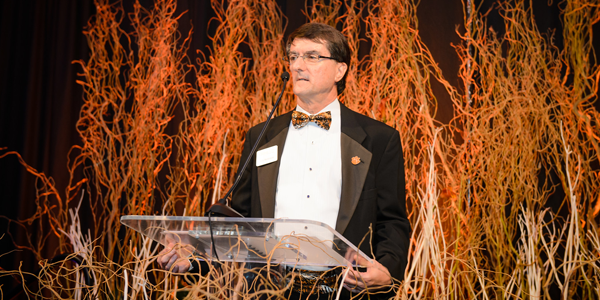 Retired from 40 years of dedicated and faithful service to the University, Jack McKenzie continues to build upon the foundation of service he began many years ago.
Attending Clemson gave Jack McKenzie '76 the opportunity to grow in independence as an individual and emerge as a thoughtful leader. Jack's love, loyalty and steadfast commitment to the University stand without question. His authenticity and genuinely enthusiastic personality reflect the best qualities the Clemson experience can instill.
When you speak with Jack, it is hard to imagine that upon arriving to campus in 1972 he knew almost no one. The day he arrived, his older brother, Dupree, said goodbye to him in front of the iconic clock tower at Tillman Hall. Jack then found his way to the assigned sixth floor room of the Johnstone dormitory – right behind the tower. The Clemson campus, compelling and beautiful, was a vast change from the small town of Mullins, SC, where Jack spent his youth. As he wandered campus for the first time, the clock tower readily became the landmark he would immediately trust. "That clock tower has always been a special symbol to me. That day, it told me where my home was. And since then, I've known that as long as I can see the clock tower, I'm where I'm supposed to be. Clemson is my home."
During his first year on campus, adjusting to his new environment, Jack focused on his studies and making friends. During his sophomore year, his desire to be more involved in campus life grew, and by his junior year, Jack was writing for The Tiger newspaper and serving as an undergraduate student government senator and a dedicated member of Alpha Phi Omega (APO) National Service Fraternity.
Jack found many of his closest friends and deepest connection to the Clemson Family as a member of APO. A service fraternity, APO helped to nurture and develop service and leadership qualities Jack intrinsically possessed. "Clemson develops leaders, and APO is about developing leaders to be of service. APO doesn't have a specific philanthropy; rather, it helps students build the skills to see a problem and rise to meet the need."
After graduation, Jack spent most of the next four decades faithfully serving in numerous roles for the University. Throughout those years, Jack played an integral part to empower and significantly increase the capacity for Clemson to transform the lives of students, faculty and staff. From 1980 to 1985, Jack was the University's internal communications manager. "Working as the University's first internal news editor, I saw the realization of a commitment by the University to be transparent and supportive of all its people," says Jack.
Jack then held several other crucial positions within University Relations and Advancement, where his work and influence brought increased excellence to those divisions. Jack's leadership ultimately led to an opportunity to serve as the senior director of special events for the Division of Development and Alumni Relations, culminating in his retirement in 2018.
Jack's quest for excellence coupled with his deep love and dedication to our great University helped to enhance how we celebrate the legacy of Thomas Green Clemson and Anna Calhoun Clemson. Under the leadership and vision of JoVanna King, Senior Associate Vice President for Development and Alumni Relations, Jack joined with her and others to help institute the celebration of our University's rich history by establishing our annual Legacy Day Celebration, the Fort Hill Legacy Society and the Clemson Legacy Society. As a result of the Clemsons' transformational philanthropy and because of their vision to establish a "high seminary of learning" for the people of South Carolina, we have the blessed honor to celebrate each year those who will join in that legacy.
Jack's leadership and influence also made a significant impact upon Development and Alumni Relations. "When I was the first stewardship director, I helped give donors information about how their contributions improved the lives of students. More than that, we created a way to connect donors to the students through events like Legacy Day. The connections we made helped to strengthen the bonds of our Clemson Family."
Jack's own generosity stems from his personal experiences while serving in APO as a student and time spent dedicated to his career at Clemson. His desire for young adults in future generations to experience the same enriching and life-changing opportunities for growth continues to inspire Jack's faithful support to the University. "APO should be affordable and accessible to all students so that they can gain these skills and experiences," he says. This is why the Alpha Phi Omega Gamma Lambda Chapter Endowment for Service Excellence was established. "The endowment is a step toward ensuring that APO doesn't have to spend time focusing on its own funding and can simply focus on providing leadership and friendship opportunities for students." For that reason, Jack followed in the hallowed footsteps of Thomas Green and Anna Calhoun Clemson and made his lasting mark by directing support from his estate to this endowment.
Another endowment also will ensure that Jack's legacy and Clemson's legacy will remain inseparably bound. The Alpha Phi Omega Jack A. McKenzie '76 Leadership Endowment was established with gifts from friends, family and members of Jack's beloved fraternity in honor of the decades of leadership and service Jack bestowed upon Clemson. The endowment provides travel grants-in-aid to students attending conferences or seminars on leadership or professional development. "I am so grateful for this kindness and thoughtful generosity," says Jack. "Endowments are forever, just like my love for Clemson and APO. I want them both to continue to grow, bringing more leaders into this world."
Jack McKenzie has led a life of service and dedication to Clemson, keeping in his sights what this beloved campus represents to him and many others. Clemson is our home. The Clemsons ensured the future of their home as a place where students can experience every advantage that a college education affords, and you can join in that vision. Will you consider honoring that legacy by investing in the future of your University? We want to ensure this place is home to generations of students to come.
By making a plan today, there are many ways in which you can impact our University's future. You can learn more here about how to follow in the footsteps of Jack McKenzie by including Clemson University in your estate plan. We also invite you to visit our website or send a personal email to us at [email protected]. Information about IRA Charitable Qualified Distribution (QCD) benefits can be found here, and you can learn about general estate planning by downloading our free Wills Guide.
We look forward to hearing from you and helping you leave your mark for Clemson students today, tomorrow and forever.