Fulfilling Dreams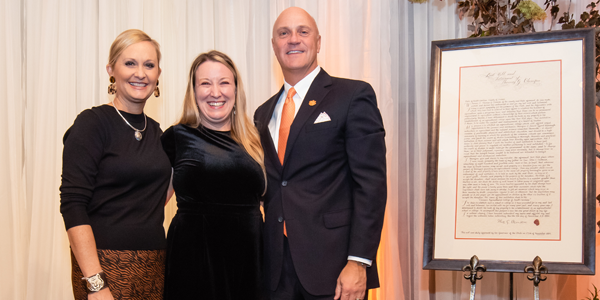 Angie Pike plans a future gift to support student-athletes
The story of Clemson is inextricably bound by the influence of a woman – Anna Calhoun Clemson. After Anna passed away, the estate fell into the possession of her husband Thomas Green Clemson who gifted the land to establish a "high seminary of learning" – what we now know as Clemson University.
In Jerome V. Reel's Women and Clemson University: Excellence – Yesterday and Today, Cathy Sams wrote: "Anna's role extended far beyond her family fortune and Fort Hill. She shared her husband's vision of economic progress through scientific education, and often used her own influence and family contacts to lobby legislators and influential friends to support the idea. Richard Simpson, executor of Clemson's will and member of the school's original Board of Trustees, once wrote that Anna should receive equal recognition with her husband for founding the school—a rare tribute in a day when a woman's opinion was generally not highly regarded or valued."
From the establishment of this University and throughout its long history of excellence in education, women have been investing in its future. One of these women, Angela "Angie" Pike '92, has followed in the legacy of Thomas Green Clemson and Anna Calhoun Clemson by creating a bequest of support to Clemson through her estate plan. Growing up in Spartanburg, Angie always dreamed of attending Clemson. Surrounded by a love for the University in her family from the time she was a little girl and as she grew older, her love for the school and especially the football program grew as well. Experiencing Clemson football is one of Angie's passions, fueled by wonderful memories of tailgating with her mother along with other family and friends. Angie holds these memories as priceless treasures.
Angie also attributes spending time with Clemson alumnus, Larry J. Smith '71, as tremendously influential to her becoming a Tiger. Smith, renowned for his work in agricultural economics, personified how the Clemson experience provides a foundation of success in the lives of our students.
When she became a student in the fall of '88, Angie's passion and love for Clemson only grew stronger as attending classes and participating in campus life introduced her to many new friends. Angie found that these new friends, with whom she would bond with the most at football games sitting in the student section, began to feel like family. For Angie, football is more than just about winning; it is an experience that enhances her bond with the Clemson Family. When the football team succeeds, she sees it as the success of the whole University – the culmination of all the experiences that make Clemson special. Angie also found a deep bond to the Clemson Family in Greek life as a member of the Chi Omega sorority. "My family is my Clemson Family – the majority of the friends I have today either went with me to Clemson or I met at Clemson. They are my family now, and my life. Clemson was the single greatest time in my life," says Angie. "There's a debt of gratitude. I feel like I owe something. It's a gem of a university."
After graduating from Clemson with a BA in early childhood education, Angie went on to earn a MA in education from Converse University. Angie became a valued educator teaching elementary school students. Watching her students rise above challenges and succeed was the most fulfilling mark of success. The idea of paying it forward whenever possible is a driving force in Angie's life. She feels there is no better way to accomplish that than through devoting oneself to educating young people.
Now Angie splits her time between her work in medical sales and her involvement with animal rescue organizations, such as Low Country Lab Rescue and the Sheldrick Wildlife Trust for elephant rescue.
Like so many, Angie remains a loyal and engaged member of the Clemson Family. She enjoys staying informed about all things Clemson, including academics, student life and athletics. Several years ago, Angie was especially moved by the ESPN feature on a Clemson player, highlighting how many student-athletes have benefitted from their athletic experiences in ways that lifted themselves and their families out of financial hardship. The story of adversity and perseverance inspired Angie to contact IPTAY to learn about how she could make a difference and invest in the future of Clemson Athletics. She learned about the powerful impact she could make in the lives of Clemson student-athletes by establishing a future gift of support through her estate. Captivated and inspired by the drive and sacrifices made by Clemson athletes, Angie made provisions in her will to fund the Angela M. Pike '92 Endowment for IPTAY. "Athletes make huge sacrifices and leave home for the first time and can't help pay bills," says Angie. Knowing that she will contribute to the success of students for generations to come fulfills part of her dream, while helping others achieve theirs. This future gift will establish an endowment that helps our amazing young athletes for many generations to come. Angie's generosity is a tangible expression of what Clemson means to her, and planning a future gift of support to the program she loves is the greatest investment toward paying it forward.
"There's so much joy watching football and athletics succeed, performing and producing at the highest level," Angie says. "It's not just that we have a great football team. The program represents all people, the experiences, relationships and friendships that have lasted a lifetime. My decision to support these young men and women came out of that. I want to leave a legacy for students who have to make sacrifices in order to pursue their passion. I want the future young men and women of the Clemson Family to come to school without being burdened and for them to succeed."
This month we celebrate the women of Clemson, and Angie Pike exhibits the legacy of generosity that Anna Calhoun Clemson influenced so many years ago. There are many women in the Clemson Family that have sought to encourage and inspire women to become leaders, problem solvers and innovators by making meaningful contributions to the future of this University. Will you consider being counted among this esteemed group of women whose generosity is paving the way toward ensuring Clemson students have every opportunity for future success? Your future financial support is a direct way to invest in the future of our great university and her students. Visit our website to learn how you can make a plan today to impact Clemson forever.