Swimming toward LIFE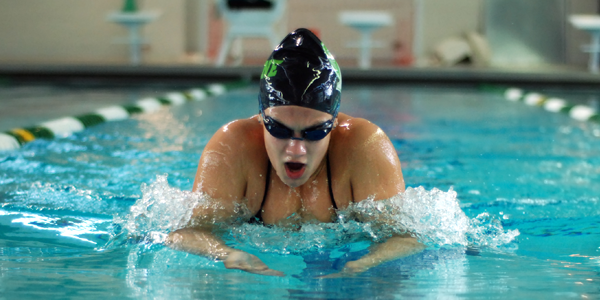 A young swimmer gives to the ClemsonLIFE program
It only takes a moment to change a life. Jessica Weitz is a testament to this. A lifelong competitive swimmer, Jessica's experience working with special needs children in the pool during her college experience has led her to give to the ClemsonLIFE program. Her parents, Jonathan Weitz '90 and Lisa Weitz '90, established the Jessica Taylor Weitz Endowment for ClemsonLIFE in honor of Jessica's passions.
A state record holder in the 100 meter freestyle and 100 meter backstroke, Jessica can remember the morning workouts at the pool, the water calm and flat. It would be her first dive into the pool that would cause the water to ripple outwards. It is this ripple effect that ClemsonLIFE emulates.
A primary program goal is for the Clemson community to have positive interactions with LIFE students – to reduce the stigma of those with intellectual disabilities. In this approach, the passion within the program reaches far and wide, giving every student an opportunity to interact with the amazing LIFE students, creating a truly cohesive community.
Jessica began working with special needs children as a student at Tulane University. A former collegiate swimmer for the university, she took time out of her intense training schedule to help students with special needs swim. Whether for the first time dipping their toe in the water or swimming laps unassisted, Jessica was there to help every step of the way. In this process, she created a special connection with one of her swimmers, Joel. Without the ability to speak, Joel was an intermediate swimmer who needed Jessica's guiding hand in the water. It was in these precious moments with Joel that Jessica found her passion to help those with intellectual disabilities.
The ClemsonLIFE program, in the same vein, acts as a guiding hand for its students. The program offers a collegiate experience that prepares young people with intellectual disabilities for competitive employment and independent living through a combination of academic coursework and career exploration. With around 40 students in the program, ClemsonLIFE acts as a catalyst for personal growth, teaching lessons that many of us take for granted. A day's lesson may be proper texting etiquette, grocery shopping or hosting a party. These practical skills allow these students to live independent, joyful lives.
ClemsonLIFE is incredibly successful. The program's students have a 44 percent independent living rate and an 84 percent current employment rate, compared to national rates of 21 percent and 14 percent, respectively. Students learn skills, including functional mathematics and literacy, independent living skills, health and wellness and self-advocacy. You will see ClemsonLIFE students across the Clemson campus, whether it be in a swing dance class, working within a campus department, or advocating for their peers in student government. Ceaseless in their joy, the smiles of ClemsonLIFE students radiate throughout campus, touching other Clemson students, staff and faculty – and the surrounding Clemson community.
With Jessica's charitable spirit and her parents' philanthropy, LIFE students will continue in this outstanding program that impacts the hearts of the Clemson campus. ClemsonLIFE is an integral part of the Clemson spirit, and Jessica's endowment will help keep it as such.