A Bond Among Tigers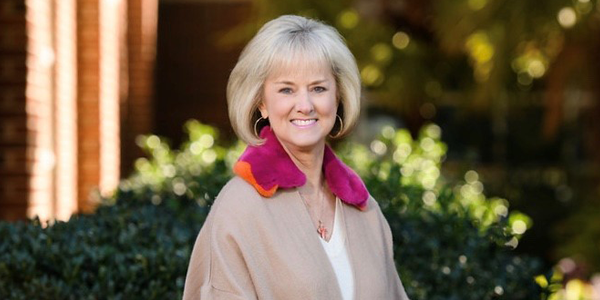 The true spirit of a Clemson Tiger is loyal, fierce, generous, honorable and passionate – all characteristics that Margaret Segars Bond, '84, embodies. Margaret exemplifies the best Clemson has to offer – and so much more. She is a dedicated Clemson ambassador and shares her passion for Clemson with everyone she encounters. Within minutes of greeting her, a glowing and vivacious personality instantly welcomes you into the Clemson Family.
The way in which Clemson has impacted Margaret's life is both humbling and inspiring. As a young girl, Margaret knew Clemson was a special and unique place. So much so, it never crossed her mind to attend college anywhere else. Her unceasing love for academics, athletics and all things Clemson were fostered by her father, Ray Segars, Jr., of Sumter SC, and later Greenville, SC. Ray, a proud member of the great class of 1949, passed away in June of 2020, but he had the opportunity to witness many of his family members continue the rich tradition of attaining a Clemson degree. Margaret lights up when given the opportunity to talk about or introduce any of her five great nieces and nephews who are currently enrolled at Clemson, further strengthening the bond of the Segars legacy which has extended beyond four generations of spirited and dedicated Clemson Tigers.
Margaret exudes warmth as she fondly recalls numerous Clemson experiences with her family and friends, and she is the first to admit that she never fathomed the ways in which she would write a significant chapter of Clemson's story as an alumna and avid supporter of athletics and academics. Clemson is one of the most important and special places of her life.
Margaret graduated from Clemson in 1984 with a degree in elementary education and pursued her passion for teaching. While on campus, she made lifelong friends, especially with a group from her sorority, Delta Delta Delta. They have cemented those close connections through many trips over the years. Early retirement was a unique opportunity that allowed Margaret to spend more time with Steve, a handsome Kappa Alpha, golfer and great shag dancer, whom she met through mutual friends at Clemson. They were blissfully married for almost 30 years when Steve sadly passed away in 2013 from lung cancer. Despite this devastating hardship, Margaret continues to honor his legacy by giving back to Clemson – a place they both cherished and admired.
Margaret has made it her quest to honor Steve's memory and help the University achieve excellence in academics and athletics. She gives her time, talent and treasures to the University because she has experienced first-hand the enormous impact that generosity can make on the next generation. Steve was on the men's golf team, and he credited his success to the academic and athletic golf scholarships he received as a student. Without financial support, Margaret notes that Steve would not have been able to afford college, and their lives would have turned out quite differently. Steve believed Clemson helped shape his life through his coaches, professors and mentors, and he always wanted to give back to his alma mater.
The significant impact and influence that scholarships had on Steve's life and his love for golf encouraged Margaret and Steve to make a generous bequest commitment to endow both men's and women's golf programs at Clemson, forever shaping the future of these programs. The Steve & Margaret Bond Golf Practice Facility was named to honor their far-reaching generosity and outstanding leadership.
Steve was the driving force behind establishing the Clemson Golf Paws program. After our men's golf team won the National Championship in 2003, he saw the need to provide funds that were over and above the budget allocations from athletics. Membership in Golf Paws has grown significantly and continues to position the Clemson golf teams to compete nationally and win championships. While watching the competition at the illustrious Masters Golf Tournament last month, we were reminded of the dedication, commitment and discipline the game of golf requires to succeed at the highest level.
Steve prioritized building deep relationships with all members of the Clemson golf program, including the coaches and current and former players. Today, Margaret honors her husband's legacy by continuing to build on those relationships, serving as the chair for Golf Paws and actively participating in the Clemson Golf program. Margaret established "Tiger Mountain Golf Day" which is held each year at her home course, Old Edwards Golf Club, in Highlands, NC. This event is supported by IPTAY and is a day of fellowship for Clemson golf coaches, players, Golf Paws committee members and golf donors.
But Margaret's passion for Clemson Athletics is not exclusive to golf. She is also committed to Clemson football, which began as a small child and gets stronger every year. Margaret has traveled extensively to support our Tigers, and she seldom misses a home or championship game. Margaret fuels her passion to support the Clemson football program by attending Fantasy Football Camp which supports Kathleen and Dabo Swinney's All in Foundation, attends Dabo's Ladies Clinic annually, and mentors football players in the P.A.W. Journey program, led by former Clemson football legend Jeff Davis.
Margaret's philanthropic support extends to the President's Leadership Circle in honor of Jim and Beth Clements, the ClemsonLIFE program in honor of Grace Clements, the Samuel J. Cadden Chapel, and Clemson's men's basketball program in honor of Coach Brad Brownell. She is also a member of the Clemson University Board of Visitors.
Margaret speaks humbly about giving back to Clemson, and there is always a common theme as to why. For Margaret, her generosity is laser-focused on the students, who are the heartbeat of our great University. Margaret says, "Making sure Clemson students are provided the resources they need to be successful will ensure they complete their educational journey and be better prepared to leave a lasting impact on their communities and around the globe, which is powerful!" She continues, "God has blessed my life in many ways, and I feel compelled to create a legacy during my life and then enhanced upon my death to financially support the most deserving and promising students to fulfill their destiny. It is rewarding, and it makes my heart feel satisfied and happy."
Before Steve passed away, he and Margaret established the prestigious Bond Distinguished Athletes Award. Steve was passionate about honoring former Clemson athletes, so they created a way to honor and recognize athletes who continue to serve as a beacon of excellence. Unfortunately, Steve passed away a few months before the first award was presented, and Margaret has dedicated her life to honor his memory by celebrating the accomplishments of former Clemson athletes who are making a significant difference, exemplifying character, citizenship and service. She says, "I'm really proud that I'm able to carry on Steve's legacy through this award."
To qualify for the Bond Distinguished Athletes Award, a candidate must have lettered in a sport, graduated 10 or more years ago and given back to Clemson University and to their community in a substantial way. Margaret explains that Steve wanted to symbolize this award with something more than a trophy, as this award does not represent a one-time accomplishment. It symbolizes a lifetime of outstanding and exemplary character, honor and service to their alma mater, community and family. A custom gold ring designed by Steve and Margaret is presented to the recipient during the Homecoming football game. Margaret shares, "Spending time with the recipient and their family is such a rewarding day for me. It is truly one of the highlights of my year."
Margaret and her late husband, Steve, captured the essence of our Clemson spirit with a solid orange passion for giving back and helping others. Her bond to Clemson tethers her to every aspect of student life at the University – the true heartbeat behind this place we all call home. Her leadership and commitment inspire each of us to strengthen our bond to Clemson and to recommit ourselves to helping others achieve their dreams and aspirations to become extraordinary athletes, leaders and change-agents who will promote excellence – and more orange – around the world.