A Piece of Home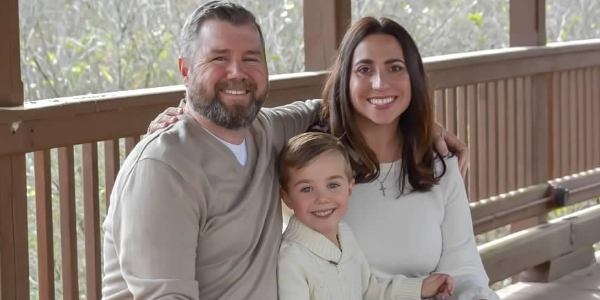 A proud young couple demonstrates anyone can give back
Giving - it also means caring. That is what the Clemson Family does - they give, and they care. It doesn't matter how large or small. Because the small gifts add up to something larger. Brian and Jaime Reynolds embody the idea that everyone can give back to a community that has given them so much. They give, and they care. "We are working class people that just want to help in any way we can," Jaime says of their gifts, The Brian J. Reynolds '98 Endowment for ClemsonLIFE and The Jaime Reynolds Endowment for ClemsonLIFE.
This young couple established future endowments by naming the University as a beneficiary of their life insurance policy, designating unrestricted support to the ClemsonLIFE program. ClemsonLIFE (Learning Is For Everyone) is a post-secondary education program with the specific purpose of helping young adults with intellectual disabilities obtain the life skills necessary to gain employment and live independently. The program provides these students a specialized education while being a part of an accepting community as members of the Clemson Family. The students of ClemsonLIFE are enthusiastic and inspiring. They contribute to the overall Clemson experience for our students across campus and continue to demonstrate that intellectual disabilities should not be a barrier for living life to its fullest - or to having the benefit of a college experience. Today, ClemsonLIFE represents the pinnacle of collegiate programs for intellectually disabled students.
Brian and Jaime have many reasons for giving back to Clemson, but their Clemson connection - what brought them together - is their strongest motivation. While both Brian and Jaime were living in Orlando, they met through a mutual friend who recognized they each had strong ties to the University. Brian was a recent graduate of the computer science program. Jaime grew up in upstate South Carolina and had been a lifelong member of the Clemson Family. Their connection to the University gave them each a little piece of home while in Florida.
Brian and Jaime volunteered and actively took part in the Orlando Clemson Club while living in Florida, giving them the chance to relive their childhood and college days with other members of the Clemson Family. They both served on the club's board, and Jaime ultimately became president. When the couple moved to Atlanta and joined one of the largest Clemson Club chapters, Jaime continued her acts of service, serving as the President of the Atlanta Clemson Club. Jaime has served the University with a steadfast passion that is a testimony to her love and loyalty to the Clemson Family.
Brian and Jaime have chosen to support the ClemsonLIFE program in honor of Jaime's half-brother, Ryan, who at a young age was diagnosed with Dandy-Walker syndrome. Despite his disability, Ryan overcame many hardships and earned an associate's degree. Ryan had to learn life skills with the help of his parents. This inspired Brian and Jaime to give to the ClemsonLIFE program so other students can have the opportunity to learn life skills in an encouraging and educational environment. Jaime speaks highly of ClemsonLIFE, saying, "The program is helping individuals with disabilities be able to provide for themselves and have confidence and structure in life. Not many schools have a program like this, and we feel it's important that everyone in life is given a chance, despite their education or intellectual abilities. Every person matters, and Clemson has made sure that these students feel valued and loved by everyone around them. It simply gives them a purpose in life even if it is something simple."
Today, in their Alpharetta, Georgia home, Brian and Jaime are raising their five-year-old son, Cooper, with great Clemson pride. The couple hopes that by establishing this future gift they will set a good example for their son and inspire the generosity of the Clemson community to do the same. It is their dream that others will follow their lead by granting the University and the Clemson community with a gift that will impact countless lives.
You can learn more about how to follow Brian and Jaime's lead and make an impact on Clemson students here .