A Lifetime Connection to Clemson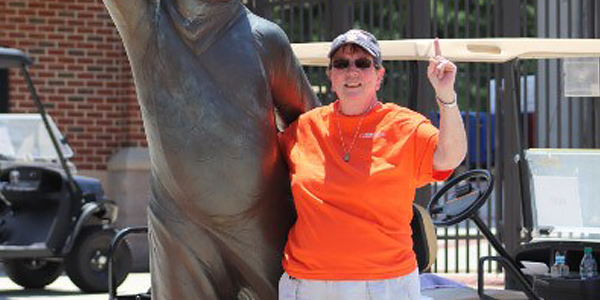 Small-Town Girl Creates Opportunities for Future Generations
Growing up as a child in the small town of Cowpens, South Carolina, Gwen Shoneke always cherished her grandfather's Clemson beanie cap and colorful stories about his time as a student at the University. Gwen's grandfather, Dr. George Dean Martin, graduated in 1915 from Clemson Agricultural College and became a pharmacist and owner of Cowpens Drug Store. Gwen's grandfather introduced her to the Clemson Family. Because of his love for Clemson, she generously donated his diploma and 1915 yearbook to the Alumni Association in his memory. She also made a future commitment to create an endowment for future generations.
Gwen says her connection with Clemson has been forged over a lifetime, and she wanted to give back and offer students from Cowpens the same opportunity she had to become a part of the Clemson Family. She established the Gwen M. Shoneke Scholarship Endowment for Graphic Communications in honor of her mother, Maudine Martin Shoneke, and her brother, Austin Dean "Skipper" Shoneke, who both taught at Cowpens High School and Broome High School. Ensuring that a Cowpens graduate has the opportunity for an excellent education is a way for Gwen to "pay it forward."
Gwen studied English and history at Clemson; however, she earned her bachelor's degree in journalism from the University of South Carolina in 1975. Despite not graduating from Clemson, Gwen still has a strong connection and commitment to Clemson. She fondly remembers spending her time on the Clemson campus - attending football games on Saturdays, meeting new people from across the globe, being challenged by professors, all while "growing up in a caring environment," as she describes it. While attending Clemson, Gwen made time in her schedule to participate in intramural basketball and was a member of the Sailing Club. Gwen's affinity and affection for the University is strong. She is a proud member of the Clemson Legacy Society and honored to be able to help support a University that is "forward thinking and innovative."
Aside from her generosity and commitment to Clemson, Gwen is the proud owner and operator of Cowpens Gallery, a fair trade and antiques booth in downtown Cowpens. Prior to opening a gallery in her hometown, Gwen was a printing sales representative for several printing companies in the Upstate. When Gwen is not working at her gallery, she enjoys traveling, photography, crafting pottery and visiting Clemson. Gwen's love of Clemson began as a young girl, and the memories she has made with her Clemson Family have remained prominent throughout her life.
The Clemson Family is eternally grateful for Gwen's generosity and lifelong commitment to our University. Her gift of the Gwen M. Shoneke Scholarship Endowment for Graphic Communications will provide a creative student from Cowpens with a chance of a lifetime to receive a renowned education from Clemson University. Gwen's creative spirit will leave a lasting legacy on generations of Cowpens' students and their great endeavors.