Creativity Meets Discipline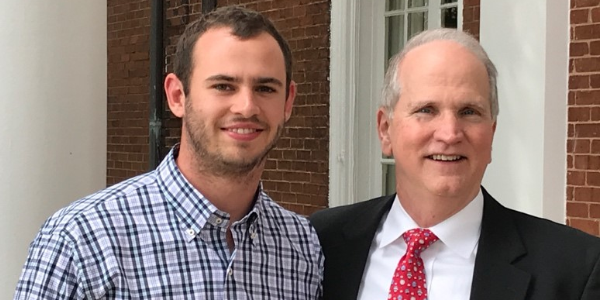 Proving the Clemson Experience Doesn't End After Graduation
The Clemson Experience is a lifetime connection - one that Russell "Rip" Parks has proudly chosen to embody. He cherishes the skills and abilities he learned as a Clemson student: discipline, creativity and the ability to connect with anyone he meets.
Rip attributes these abilities, as well as his career success, to his broad range of experiences at Clemson. During his time at the University, he studied pre-architecture and actively participated in Army ROTC and the C-4 Pershing Rifles. These experiences gave him an unbreakable connection to the University and to the Clemson family. Because of his deep connection to Clemson, Rip established an estate gift that will create the Clemson University Company C-4 Pershing Rifles Endowment and a current gift that established the David J. Allison ('78, M'82) Endowment in Architecture and Health . He says, "Giving is a creative process. It is incredibly energizing once you get beyond the initial hesitation of disposing of assets. No one is taught how to give in school. Rather, philanthropy is a learned skill cultivated by leaders and mentors. In the end, giving is a discovery process with huge benefits to the giver."
Rip fondly remembers his time in the C-4 Pershing Rifles, an invitation-only organization that offers membership to the best and brightest cadets each year. The C-4 Pershing Rifles organization performs at all of the University ceremonies and is at the forefront of every parade, color guard, wedding and funeral, reminding us of our inter-connected experience as Clemson Tigers and Americans. Uniquely appointed to these important rituals, binding our Clemson family together, the C-4 Pershing Rifles also perform at Tigerama each year. They dazzle students and alumni with a pure, unadulterated drill routine, which exemplifies their strict discipline in perfecting their craft. With a twinkle in his eye, Rip remembers his performance at Tigerama many years ago. He also remembers the opportunity to march in the New Orleans Mardi Gras parade as one of his most memorable undergraduate experiences at Clemson.
In addition to his passion for the C-4 Pershing Rifles, Rip is a generous supporter of Clemson's Architecture + Health graduate program. His undergraduate degree from Clemson's School of Architecture prepared him for a very successful career in healthcare design. He has watched with amazement the advancements and growing prestige the Architecture + Health graduate program that has thrived under the leadership of Distinguished Professor David Allison. The award-winning program focuses on the architectural design of health facilities and the study of evidenced-based design and its impact on human health and well-being. Beyond the research, the program attracts the best and brightest students from around the world, each seeking to learn under the guiding hand of David Allison. As Clemson produces top performers in today's healthcare design industry, Rip attributes David's mentorship and passion for students in this field of architecture. The hiring rate upon graduation for these students is impressive and shows the extent of Clemson's influence on the industry. Having just celebrated the 50th Anniversary of the Architecture + Health program, Rip highlighted the fact that our alumni permeate the industry nationwide, speaking well of this highly successful program.
His financial gifts to Clemson are only one aspect of how he has extended his spirit of serving the community around him. He served in the US Army Reserves for 22 years, where his assignments included commanding a drill sergeant company and serving as the aide-de-camp to the commanding general for the 108th Training Division.
Rip now gives back to Clemson through his service on the Board of Visitors, an appointment that allowed him to connect with his community as an advocate for University initiatives on the state and federal level. He sees these positions as an honor that inspire him and allow him to interact with the entire University enterprise.
Between his duties on the Board of Visitors and running his own business, ParksConsult, Rip also finds time to mentor young men from the Clemson and Greenville area. This mentor/mentee relationship offers an opportunity to share his own life experiences, both professionally and personally, and even learn from younger generations.
Rip's lifetime relationship with Clemson is grounded within more than just his philanthropy or service - it is built on a legacy of connection. Within minutes of meeting Rip, you recognize his intense love and loyalty to this great University and his desire to instill discipline and creativity in future generations of Clemson students.
You can learn more about estate and gift how to give back to Clemson here.