Big Dreams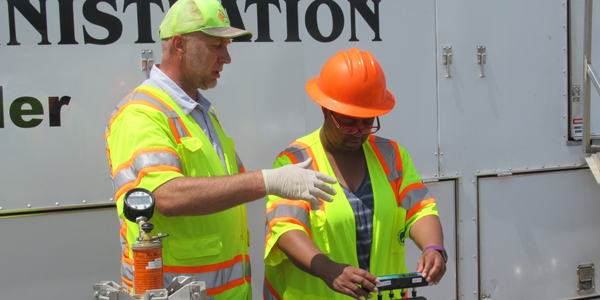 101 goals in 1,001 days - that is what Karen Bobo' 89 recently set out to do. Among that list is to increase her donations to her favorite charities. And Clemson is at the top of her list.
Karen has a deep appreciation for the opportunities Clemson provided her. That, coupled with a strong desire to help other students from less fortunate backgrounds, has inspired her to give back to Clemson. Karen has arranged a bequest that will create a scholarship endowment for students with financial need.
Karen might not have seemed destined for success growing up in Spartanburg in the 1970s. When Karen was only five years old, her mother passed away, and she moved in with her grandparents, Jassie and Annie Mae Bell. But because of the strong bond she already had with them, the transition wasn't quite as difficult as one might have thought.
"My grandmother was my rock, and she was Mama," Bobo said. "And she stepped in and fulfilled that critical role." Karen added, "With her lack of education, I was on my own with regard to my studies, but she did provide a solid foundation of love and support."
Her grandfather only made it through first grade and was working two jobs, and her grandmother had her hands full doing domestic work and caring for the family.
Karen had the aptitude, particularly in math, and the encouragement of her grandmother - who despite only having a sixth-grade education always encouraged Karen to pursue big dreams. And Clemson University provided the platform for Karen to fulfill her highest potential.
Karen's mother, Annie Helen, attended Howard University for two years but was forced to drop out due to lack of funding. This, Karen explains, is why her grandmother had always stressed the importance of education.
Her grandfather was also inspirational, despite his scant formal education. He worked a night job and ran his own garbage collection business in the daytime. It was her grandmother, though, who encouraged her to pursue a quality education. "She pushed me to make sure that I got into things like Junior Achievement, Beta Club and other organizations," Karen said.
Karen was also fortunate to have had guidance counselors at Spartanburg High School who recognized her potential and encouraged her to aim higher than her initial goal of becoming a math teacher. Because of her high test scores, particularly in math, they encouraged her to consider engineering - which would pay a higher salary and utilize her strong math skills. Karen says, "That's how my path moved towards engineering."
When it came time to apply for college, Karen considered only one school in South Carolina - Clemson. She also considered several out-of-state schools - North Carolina State and Hampton Institute (now Hampton University) in Virginia.
Since her grandparents were older, she was leaning toward Clemson to be closer to them. When her grandmother offered to get her a car which would allow her to travel home whenever necessary, Clemson quickly rose to the top of Karen's list. "Plus, being a strong Clemson Tiger fan, it made sense," she said.
Karen had followed the Tigers but had never actually been on campus until she went to a summer orientation for African American students. "My first impression was that I liked the campus," she said. "It's definitely grown since I left there, but I liked the close-knit part of the campus."
Karen also recognized the value of Clemson's top-flight engineering program and was particularly impressed with the research and the corporate partnerships with engineering companies. She completed a year-long co-op program with a construction firm in Atlanta, working on the Interstate 75/85/20 interchanges. "That gave me some great experiences," Karen said.
But as much as she enjoyed construction, she quickly realized through the process that her allergies would impede her success in an outdoor profession. "So as much as I like construction, I knew I couldn't do it full time," she said. She joined Federal Highway Administration through its Highway Engineering Training Program, which allowed her to explore options in the civil engineering field.
That decision would serve her well in various administrative roles. However, it was her close relationships with her professors and classmates at Clemson that set her on the path to success in her field. "I had some great professors, such as Aziz, Barron and Amirkhanian, who definitely looked out for their students," she said. "Their office doors were always open, and they always made time for their students."
She developed friendships with fellow students that, even more than 30 years later, remain strong. She calls them her big brothers and sisters.
The whole experience of being a Clemson student played a vast role in shaping the person she is today. Life on campus - whether cheering for the Tigers from the student section or catching up with friends in the Loggia - played an important role in Karen's personal development. And it was right on campus that she landed her first job with the Federal Highway Administration, which was hosting interviews at Clemson.
The agency put her through a two-year training program that placed her within various positions throughout four states. Since then, she has worked in engineering, civil rights, planning and realty, spending eight years in Washington, D.C., along the way.
Karen is now head of the Federal Highway Administration's Iowa Division, leading a staff of 16 in managing the Federal-Aid Highway Program which includes planning, environmental and road construction projects across the Hawkeye State.
Her daughter, Maya, recently moved to Ames to attend graduate school. Maya is a North Carolina State graduate.
"She opted not to attend Clemson because her mom and her dad graduated from Clemson," Karen chuckled. Maya's dad is former Clemson linebacker Dorian Mariable, who played for the Tigers from 1985 - 1989.
"I've had a good life," Karen says. And she wants to help others enjoy the Clemson experience.
"I've found a lot of young people struggle nowadays, whether it's financial or other support systems that they need," she said. "I'm hoping my endowment will reach those people and encourage them to have a bigger dream for themselves."
Like Karen, you can include language in your will or trust specifying a gift be made to Clemson University as part of your estate plan. A bequest can be made with a specific dollar amount or asset; with a percentage of your estate; from the balance or residue of your estate; or through a beneficiary designation of certain assets. To learn more about how you can impact future generations of Clemson students, visit our Planned Giving website.