Changing Courses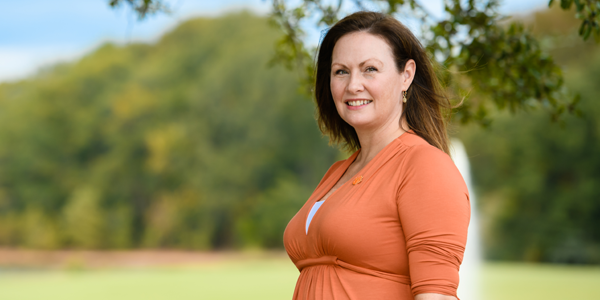 Kimberly Bruce '92 is providing Clemson students with opportunities through a planned gift.
Orange and white confetti was raining down. Clemson Tigers were arm-in-arm, swaying as the Tiger Band played the alma mater. National Champions was flashing across the big screen - and Kimberly Bruce '92 was there, relishing the moment alongside her fellow Tigers. It was Clemson football's first National Championship since 1981. It was a once-in-a-lifetime experience - that is, until it happened again this year. Kimberly - and the entire Clemson family - watched Dabo raise the National Championship trophy above his head for the second time in three years, and everyone knew that they were experiencing something truly special.
These are among the Clemson memories that will forever stay with Kimberly. Outsiders likely think it is all about the victory. But for Clemson Tigers, especially Kimberly, it is so much more. It is about family and tradition. It's about the bond among Clemson Tigers. And no matter the outcome, victory or defeat, Kimberly's love for Clemson is solid - solid orange.
Kimberly's love of Clemson began as a young girl. She can vividly remember the day she learned that Clemson would be her home for what would eventually be four of the most memorable years of her life. She recalls, "As a young Clemson fan, it was a dream come true when I received a Clemson acceptance letter in the mail. Clemson was always my first choice, no question."
Her journey at Clemson led her to a career in graphic communications. But the graphic communications program is not where her path began. It wasn't until later during her freshman year when she heard a friend discussing his graphic communications classes that her interests were sparked. She sat in on one class - and that was all it took. She realized she had found her passion. Shortly after, she changed her major to graphic communications, and coincidentally, changed the course of her life.
Kimberly says, "Sometimes when you are uncertain about the direction of your life, I suggest asking questions and being a good listener."
She credits Clemson with her success. Clemson has enriched her life, and now she is sharing that enrichment with future generations of Clemson students through the Kimberly A Bruce '92 Graphic Communication Endowment - specifically those who will follow in her footsteps in the graphic communications program. Kimberly credits the program with preparing her for success after graduation, saying "The hands-on experience is one of the essential components that make the Clemson Graphic Communications program an industry leader. Whether it was applying class knowledge in the lab or during an internship, I felt well prepared for employment when I graduated. Consequently, my first job after graduation was with an employer I interned with."
Because of everything she feels that Clemson has given her - along with her unconditional love for everything orange and purple - Kimberly is inspired to give back. "I wanted to give back to them because they have given me so much," she says. Kimberly has included Clemson University in her estate plan to provide the University with the capabilities to adapt to our ever-changing world. Through this endowment, Kimberly will provide future generations the same enrichments she was able to experience as a student.
Her advice for current students is simple, "Explore areas outside of your major, prepare for tomorrow, build lasting friendships, and enjoy the ride."
By exploring the many options for giving back to Clemson, Kimberly discovered that a planned gift aligned with her lifestyle and long-term goals. She says, "Because I can't do it right now, as much as I would like to, I thought that was one way I could give back."
Family. Tradition. Innovative. These are the three words that come to mind when Kimberly Bruce thinks of Clemson. Fittingly, these words embody Kimberly's planned gift to Clemson, which will impact future generations of Clemson students and provide them with the same opportunities she feels fortunate to have experienced at Clemson.
To learn how you can join Kimberly and make your own gift to Clemson, visit www.clemson.edu/giving.