Power Couple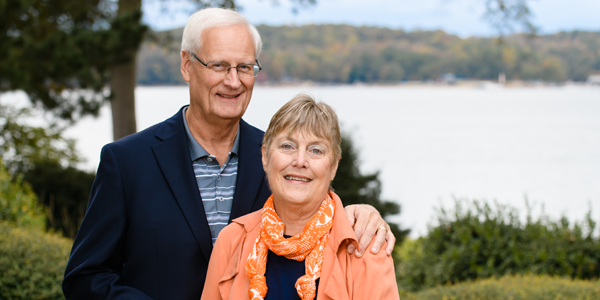 John and Laurie Gutshaw are empowering first-generation college students.
Power couple - there is no other way to describe John and Laurie Gutshaw. Long before they even met, John and Laurie both relished the educational opportunities afforded to them, eventually using this education to build substantive careers and lives. The couple, of Ponte Vedra Beach, Florida, is putting their collective power behind Clemson University through the establishment of the Kenneth John Gutshaw, Jr., (Class of '72) and Laurie B. Gutshaw Annual FIRST Grant-In-Aid Endowment - providing support for first-generation college students at Clemson.
John's father, Ken, a graduate of Notre Dame, worked for Union Carbide in Charleston, West Virginia, where John was born. His mother, Dorothy, earned a law degree from West Virginia University - an occupation rarely entered into by women during that time. John's father moved his family, that also included John's sister, Gynna, to Long Island after he was promoted to Union Carbide's corporate offices in New York City.
"When it was time for me to look at colleges I was interested in going to a southern school because I frankly didn't like cold weather," says John. "My high school guidance counselor put Clemson on the list because of my interest in architecture. When I visited Clemson, I fell in love with the campus, the area and its beauty. When I was accepted, Clemson was the clear choice."
John received his B.A. degree in Economics from the College of Business in 1972 and remained at Clemson where in 1974 he earned his Master's degree in City and Regional Planning, within the College of Architecture, Arts, and Humanities. After graduation, one of John's classmates, Ray Spreen, told him about an open position with his father's management consulting company, Stone and Webster in New York.
"I was hired, moved to New Jersey, where Ray and I became roommates," says John. "I loved the job because it involved analyzing and accessing site selections for companies and I got the bug for this type of work, but it was not a primary focus of the company." That's when John met Jim Wadley who had recently founded a firm specializing in the scope of work in which John was most interested. John took a position with Jim's firm and the rest is history.
"Jim and I were a two-person operation for years handling some impressive accounts," explains John. "We had a particular project for a large corporation that needed us to find a site location and that work brought me to Jacksonville, Florida. After some time there, I thought it would be a great place to eventually retire. We grew and merged with a real estate corporation but realized we wanted to return to the business model with which we began. Jim was about to retire so we added another Clemson graduate, Dave Laszlo, to our staff - eventually bringing the Clemson team working at the firm to three."
Meanwhile, his future wife, Laurie Buchanan, grew up in Schenectady, New York where her father, Don, worked in the corporate headquarters of General Electric until he was relocated to Dallas, Texas, where he worked until retirement.

"My mother, Jean, did not go to college, as a college education was often felt to be unnecessary at that time for women," says Laurie. "My father felt that to an extent and thought if I went to college I should get a teaching or nursing degree. I wanted to become a journalist, so with support from my uncle who attended Syracuse University, I was accepted and graduated from Syracuse with degrees from the Newhouse School in Journalism and the Maxwell School in Political Science.
After graduation, Laurie's career took her back to Dallas where at age 21 she became the women's editor at a local newspaper. But bigger opportunities were soon to come her way as she accepted a position to work as the Press Secretary for a newly elected Congressman, Alan Steelman. That position took her into the busy inner-world of Washington politics. She went on to hold positions for such notable people in Congress as Hamilton Fish (NY) and Olympia Snowe (ME). Her resume also includes positions with the Federal Commodities and Futures Trading Commission, the New Jersey Department of Transportation, New Jersey Transit and finally, a position in communications with a global engineering consulting firm, AECOM Technology, from which she retired in 2017.
Despite living in separate states during their post-college years, John and Laurie met through mutual friends in Philadelphia acting as "match makers." The match took, and John and Laurie were married on June 16, 1984.
Today, the firm of Wadley Donovan Gutshaw Consulting is an international consulting firm for some of the world's most prestigious companies. They provide fully integrated advisory services covering all aspects of the corporate location decision and more.
John and Laurie remain a power couple, but they are working a little less and enjoying a simple - but abundant - life in Florida. Their skills are still in high demand, but they carefully select what to allocate their energy towards and are always exploring ways to support the causes in which they are passionate.
The Gutshaws have shared their success by empowering Clemson's FIRST Program. They established an equal endowment at Laurie's alma mater, Syracuse, also for first-generation students. Recently, John and Laurie were part of creating an endowment at the Brookwood School in northern Boston where his sister taught fifth grade. They did so after his sister and her husband, Angier Ames, were killed in a tragic plane crash. This endowment provides funding for teachers who want to further their knowledge and experience to bring back to the classroom.
John and Laurie Gutshaw recently met the first Clemson recipients of their generosity. "We are so excited to know the recipients of our endowment and follow their educational and professional careers," add the Gutshaws.
John went further to say, "Laurie and I believe one of the best gifts you can give to any young person is a college education. College prepares you for a future career, helps you understand learning experiences and establishes enduring friendships. In the absence of having children, we decided this endowment was the best avenue - providing others with this gift - and opening the door for a first-generation college graduate makes this even more special to us."