Pulling Together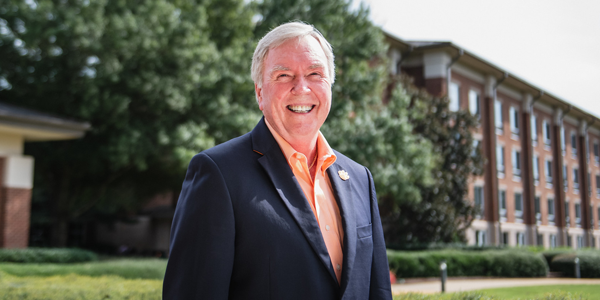 North Charleston's Ray Anderson named Clemson Alumni Association's Volunteer of the Year
The staff of the Clemson Alumni Association has selected Raymond H. Anderson, Jr. of North Charleston to receive the 2018 Frank Kellers III Volunteer of the Year Award. The award recognizes a Clemson University alumnus for outstanding volunteerism and service to the university.
The Clemson Alumni Association chose Anderson for his extensive support of the alumni association and the university along with his unwavering advocacy for initiatives promoting Clemson.
An architecture graduate of Clemson in 1974, Anderson is the Special Assistant to the Mayor for the City of North Charleston. He has served as Chairman of the Clemson University Board of Visitors, on the Clemson University Foundation Board and is currently serving on the Clemson Alumni Association Board of Directors. Anderson actively represents Clemson within the university's Office of Governmental Affairs and volunteers with the Charleston County Clemson Club Board of Directors and the Clemson in the Lowcountry Board of Directors.
In addition to his volunteer efforts at Clemson, Anderson has provided significant financial contributions, including an estate gift to endow support of university-wide unrestricted scholarships and a giftto the Endowment for the School of Architecture Travel Grant in Aid He is a major gift donor to the Zucker Family Graduate Education Center in Charleston and has provided gifts to ClemsonLIFE, the President's Fund-Leadership Circle and Barker Scholars.
In addition to serving Clemson, Anderson has had a great impact in his community. He served on the North Charleston Planning Commission and was elected to North Charleston City Council for two terms. He was appointed to the first Charleston Naval Complex Redevelopment Authority in 1993 and has been a member of the American Institute of Architects, the South Carolina City County Manager Association, the SC National Heritage Corridor and the Urban Land Institute.
Prior to serving as assistant to the Mayor, Anderson worked for the Charleston County School District, where he developed the District's Guide to Architects/Engineers, Educational Program Specifications, Program Guidelines and the Middle School Team Concept.
The Clemson Alumni Association has presented the Frank Kellers III Volunteer of the Year Award annually since 1988 to show recognition and appreciation to individuals who have a passion for service and building the Clemson family. The award is named for Frank Kellers III, a member of Clemson's Class of 1957.
The Clemson Alumni Association, an open-membership, nonprofit organization since its inception in 1896, connects members of the 154,000-strong Clemson family, inspiring pride, celebrating achievement, providing service and strengthening relationships with Clemson University and each other.