Turning passion into purpose.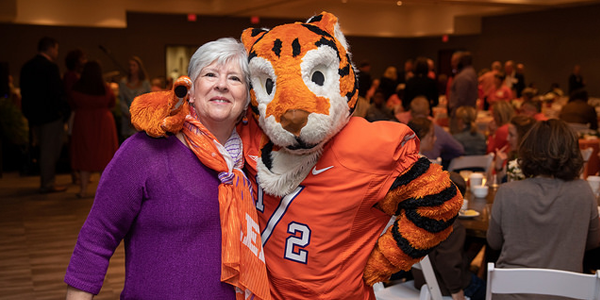 Emily Wallace creates endowment to enhance majors in S.T.E.M.
Emily Peek arrived at Clemson as a math major in 1968 ­- one of the few Clemson women entering the field of science, technology, engineering and math at that time.
"As a female math major in the late 1960s, I definitely stood out," says Emily. She credits her teachers in high school and those at Clemson with encouraging her to turn her love and passion for math into a career.
Her degree has taken her far in her professional life at an international software company. Now, she's recognizing Clemson's role in her education and career with the Emily PeekWallace '72 Scholarship Endowment for S.T.E.M. to provide scholarships for students who require financial assistance in STEM fields. Recipients will also be encouraged to participate in the Women in Science and Engineering (W.I.S.E.) program.
A native of Columbia, Emily graduated in 1972 with a bachelor's degree in mathematics. She is listed in the Who's Who Among Students in American Universities and Colleges. During her senior year at Clemson, she was the first female to serve as head of Clemson radio station WSBF.
She credits her parents and their method of solving problems through a systematic step-by-step process for her approach to success. "My father worked for Southern Bell Telephone with PBX telephone systems that were really early computers," she says. "My mother loved books, games and crossword puzzles. Whether it was a board game or putting something together, my parents approached things logically," says Emily. Her older brother, David, studied architecture at Clemson. The blood in their family definitely runs orange.
Emily met Jack Wallace, her husband of almost 38 years, in Charlotte. She was working for First Computer Services, the IT division for First Union National Bank - now Wells Fargo. In 1981, Emily and Jack joined SAS Institute and were among the first 100 employees of the Cary, North Carolina company, where Emily now serves as the Senior Director of the Knowledge Management Center. She manages 75 software developers and testers who create and support web-based applications and reporting portals for global sales and marketing teams and executive management. Emily was instrumental in advocating for SAS - a global company with 15,000 employees - to make a multi-million-dollar donation of software and services to Clemson University.
Jack, a graduate of Washington and Lee, also works at SAS as an executive in R&D. Although he is a UNC-Chapel Hill fan, he freely admits that that he also supports Clemson. "Emily and I have been very involved with Clemson and the quality education it provides," says Jack. "Our tour of the Watt Family Innovation Center was an incredible experience."
Emily says Dabo and Kathleen Swinney's contributions to Clemson also motivated her to do more for the university. "Dabo and Kathleen Swinney were active supporters of Clemson's university and community initiatives long before Clemson became a standout in athletics," says Emily. "Their contributions to Clemson inspired me to take the next step in creating an endowment."
As a hiring manager at SAS, Emily says it is discouraging to see the lack of qualified applicants for IT and R&D positions. "My goal is to increase the number of candidates with technical degrees because they are in short supply," adds Emily. "I was blessed to have the support of many at Clemson who enabled me to develop my math and problem-solving skills, and they were instrumental in building the career I have today. I want to help students increase their proficiencies in the fields of science, technology, engineering and math because it really does matter that our state and country remain on the cutting edge of technology."