Retired Chemical Engineer Funds Endowment to Help Students Stay in School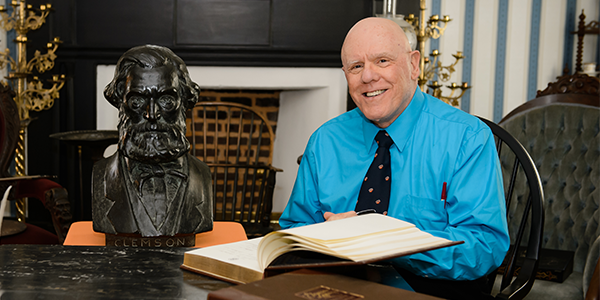 Retired chemical engineer Jeffrey Gude knows the value of hard work and financial assistance when it comes to education. The son of working-class parents living in the Bronx, New York, he wanted a better life than working in a factory. Despite lacking the money to attend college, he applied in 1963 to schools with strong engineering programs.
Gude worked odd jobs to save the money needed for his first year at Clemson, but after his freshmen year he realized he could not afford to continue his education and had to drop out. No longer a college student, he lost his student deferment and quickly received his draft notice in August of 1965. Early in his service he entered Officer Candidate School, eventually attaining the rank of Captain. In 1968, he served as commanding officer of the US Army Ammo Depot in Pusan, South Korea. His dream of returning to Clemson to finish his degree, however, never left him.
"Being drafted into the Army was really a blessing," said Gude, "because I returned to Clemson five years later on the GI Bill that paid all my expenses." Gude said he was also fortunate to have the guidance and support of Dr. Charlie Littlejohn, who joined the faculty at Clemson in 1947 and became chair of the chemical engineering department in 1956.
"Dr. Littlejohn required his chemical engineering students to wear dress shirts, dress pants and ties to class to reflect the professionalism of a chemical engineer, said Gude. "He was an excellent instructor and always had a sincere desire to help us through a very rigorous course of study. He expected the best of everyone. In fact, it was Dr. Littlejohn who refused to lessen the semester hours needed to graduate with a B.S. degree while I was there."
As a student, Gude was inducted into two scholastic honor societies - Tau Beta Phi and Phi Kappa Phi. After graduating in 1973 he moved to California where he worked for C.F. Braun Engineering for 26 years until the offices closed in 1999. Gude then worked for Jacobs Engineering in Pasadena, California, as a project engineer until he retired in 2010.
The premature death of Dr. Littlejohn, for whom Gude had great respect, motivated him to give to the scholarship fund established in his honor. Gude gave to the C.W. Charlie Littlejohn Jr. Memorial Scholarship for more than 35 years until he was inspired to create a legacy of his own that would support chemical engineering majors with financial hardships.
"I had to drop out after my freshman year due to a lack of funds," said Gude. " I spent five years establishing myself financially for my return to Clemson. I do not want another student to leave Clemson because of financial hardship."
In 2013 Gude worked with JoVanna King, Senior Director of Clemson's Office of Principal Gift and Estate Planning to establish the Jeffrey J. Gude '73 Endowed Scholarship for Chemical Engineering that provides financial assistance to deserving students. In 2014 he created the Jeffrey J. Gude '73 Annual Scholarship to help additional students. He is now working to leave an even more important legacy - a pledge to give $1 million to the College of Engineering and Science to fund numerous scholarships and possibly provide each chemical engineering graduate, with a grade point average of 2.5 or higher, a small stipend as a way of saying, "job well done."
Gude was proud to be inducted into the Clemson Legacy Society two years. "Clemson is known for its strong engineering program, said Gude. "It's not easy, but hard work pays off in the end. I don't want any student to drop out because of a lack of funds. This is the legacy I want to leave."
Although he lives in California, Gude returns when he can to the Clemson-South Carolina football game and often gets together with other Clemson alumni to watch televised games.
"Clemson had a tremendous impact on all areas of my life" said Gude. "The faculty that gave me so much support, late-night studying in Earle Hall, the 1963 Clemson-Georgia game where it rained so hard we called it the 'Mud Bowl,' and fishing for bass on Lake Hartwell will always be a part of me. Now it's my time to give back to the University that gave me so much."