Rhonda Aull Hyde to Create Endowment for First-Generation Students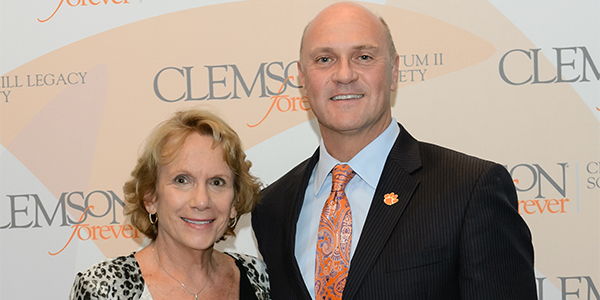 The students who walk the grounds of Clemson today may not realize the impact the university will have in their lifetime, but for those alumni who look back on their days at Clemson, they realize their experiences here were life-changing in many ways. Rhonda Aull Hyde is a perfect example of someone who came to Clemson and left with an education that greatly impacted not just her future, but that of her son, Jacob, too.
Rhonda grew up the only child of Luther and Mary Aull of Pomaria, South Carolina. Her father, who worked in a cotton gin, had only a sixth grade education. He later joined the military where he earned his GED. Rhonda's mother Mary, who passed away in 2013, worked as a teacher's aide.
"My parents wanted me to have a better life and believed in a good education," said Hyde. "They saved as much as they could to send me to Clemson."
Hyde entered Clemson in 1976 and graduated with a B.S. in math in 1980. She continued her education at Clemson to earn a master's in that same field. But Hyde didn't stop there. While in graduate school, she was awarded an assistantship - an important factor in helping her with tuition. In 1987 she earned her Ph.D. in management science.
Hyde said that in addition to receiving a superior education, she credits Clemson with the lifelong friends she made here.
"The academic programs here are rigorous, and I worked hard," said Hyde, "but I also remember such great times like sledding on cafeteria trays the few times it snowed and just hanging out in dorm rooms talking to friends late into the night. I will always remember sitting at the window at the end of the fourth floor of Benet Hall watching the construction of the first upper deck to Death Valley. That was awesome to watch."
"To receive such an outstanding education that opened so many doors for me throughout my life and to make friends with whom I still remain in contact was a double blessing," said Hyde. "All these factors were part of my decision to bequeath Clemson in my estate planning an endowment that will help first-generation students like me and give them the opportunity to change their lives."
In 2015 Hyde created the Aull Family First-Generation Scholarship Endowment that will provide merit-based, need-based scholarships to first-generation students enrolled in the Clemson FIRST Program and the College of Engineering and Science. Recipients must be residents of South Carolina.
Hyde said when she was at Clemson tuition was supplemented more by the state. Now, she feels need-based scholarships are even more important as state support declines. "If I had not gone to Clemson, the doors that were opened to me would not have been available," said Hyde, who went on to become a tenured professor at the University of Delaware where she taught until her retirement in 2013.
Following her retirement Hyde moved home to Pomaria to be closer to her parents who worked so hard to give her the advantages they never had. Her mother passed away shortly after she moved home, but she now cares for her father.
Hyde's son recently graduated from the University of Delaware with a B.S. in management information systems, so the apple didn't fall far from the tree.
"I remind my son that if it I had not received financial assistance from Clemson and the support of hard-working parents, I would have been unable to attend Clemson," said Hyde. She feels her son, Jacob, has the opportunity to build a successful career because of her Clemson education. Hyde said, "I owe Clemson a debt of gratitude and repaying it with a bequest to honor other first-generation students is how I want to pay it forward."