Florida CEO Showers Clemson with Charitable Lead Trust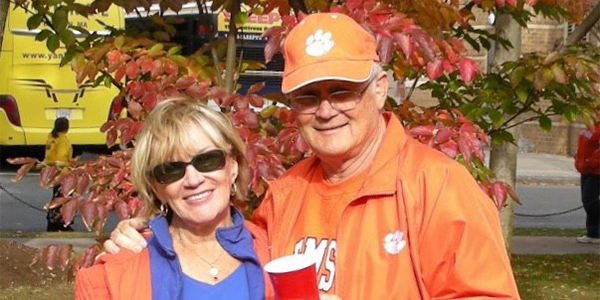 William "Bill" M. Cobb of Jacksonville, Florida, never made it to college for financial reasons, but he certainly made up for it by applying pure ingenuity and passion into his life -- professionally and personally. Fortunately, Bill had the will and ambition to pursue the American dream for himself and his family -- and later, for Clemson. His passion resulted in the Cobb family establishing The William M. Cobb Charitable Lead Annuity Trust, a $1 million, 10-year gift that culminated many years of his giving to Clemson.
"I grew up in Columbia, South Carolina, and my parents described me as a diehard Clemson fan by age three," Bill says. As an adult, a friend and business associate gave him tickets for home football games until Bill decided to purchase tickets of his own.
Bill's path to business success started humbly in 1957 when he worked for the Loxcreen Company, a window screen manufacturer in Columbia. When Loxcreen acquired an aluminum extrusion business, the company sent Bill to night school to take engineering courses. Then in 1961, he moved to Jacksonville, Florida, to work for Marchant Calculators (later Marchant/Smith-Corona), selling large, expensive calculators. When a recession hit, smaller and less expensive calculators were developed that destroyed the market for the calculators he sold. That's when Bill decided to go back into the aluminum business to work for Southeastern Aluminum Products. He stayed with Southeastern for more than 10 years, rising to the position of General Sales Manager.
It was taking a simple shower that changed Bill's life and future. "When I moved to Jacksonville, I lived in a mobile home," says Bill. "And every time I got in the shower, the vinyl curtain would wrap itself around me. It was a fight to unwrap the shower curtain in order to bathe," he laughs. That everyday experience gave Bill the idea to fabricate a rudimentary shower door utilizing a shower curtain and a screen frame. And it worked. Southeastern specialized in window screens, but they encouraged Bill to direct his marketing efforts toward the mobile home industry. The first manufacturer he contacted was New Moon Homes that produced approximately 47 complete homes a day. New Moon Homes loved the product, and Bill soon discovered the company had 15 additional sister plants that made Bill's success take off. "I left Southeastern in 1972 and started Coastal Industries with $15,000 in start-up money, three employees, three pieces of equipment and lots of prayers," he adds.
Today, Coastal Industries employs approximately 200 people worldwide and has more than $30 million in sales. Customers include Home Depot, Lowes, Wayfair, Amazon and an array of distributors across the U.S. The company is currently developing distribution in Canada, Europe and the Middle East. Coastal Industries also supplies shower doors to the hospitality industry, including Marriott, Hampton Inn and Hilton Hotels. William "Jay "Cobb, his son, now serves as General Manager, while his younger son, Patrick, serves as Director of Marketing and Product Development. The Florida Times-Union Jacksonville edition recently ran a great story on Coastal Industries.
Throughout his life, Bill has remained devoted to Clemson. He and Gail attend sporting events and contribute to IPTAY. Bill says it was 10 to 15 years ago when he became more serious about giving to Clemson. He first donated at the Fike Level, then Heisman, and now at the Riggs Level - and amount that pays for one football scholarship a year. In fact, Bill was one of the founding members of the Heisman Level. He called Clemson's Athletic Department to say he would raise his IPTAY contribution requirement from the Fike Level because money was needed for athletic scholarships. This voluntary action helped create the Heisman Level.
Bill's granddaughter, Kayla Cobb, graduated from Clemson a few years ago and is now a journalist for The New York Post. Bill says he talks to all his children and grandchildren about the importance of pursuing something meaningful in their lives in addition to their professional pursuits.
"The people I've met at Clemson have been some of the most honorable and impressive people I've known throughout my life," he says. "It means a lot to Gail and me to be part of the Clemson family and have the means to establish a Charitable Lead Trust that provides deserving athletes, students and departments the resources they need," he adds. Because of Gail's passion for literary arts as a retired English teacher, the Cobbs sponsored the 2017 Literary Festival and have designated gifts to the English Department. Bill and Gail also feel their gifts to athletics and academics help Clemson students become well-rounded as they maneuver through school - and later through life.
Bill and Gail enjoy their home on Lake Hartwell as well as their home in Florida. "We didn't make the decision to create a Charitable Lead Trust lightly," Bill says. "We consulted with our attorney, CPA and JoVanna King at Clemson to develop a way of giving that met our financial and personal objectives. We couldn't be happier with our decision and feel great satisfaction knowing we took this step at this particular time."
###
What is a Charitable Lead Trust? A trust that allows you to transfer stock or real estate to your family while reducing your taxes. It's as simple as funding a trust that pays Clemson for a designated number of years. At the conclusion of the trust term, the gift returns to you or your heirs, and all appreciation on the trust assets is avoided. This option allows you to take care of your family and the Clemson family.