Dedication to Higher Education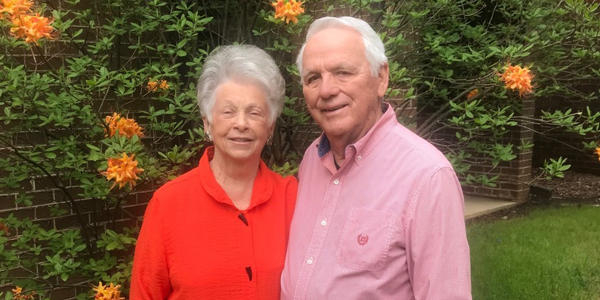 Service and dedication - these are principles Dr. Louis Williams and his wife Elise have always lived by. Dr. Williams, a native of Abbeville, served honorably in the United States Air Force before beginning his path for higher education at Clemson University in 1956, eventually earning both his undergraduate (1959) and master's degree (1961) from the University. Upon graduating in 1961, Dr. Williams and the love of his life, Elise, began their professional journey in academia that would span more than thirty years. Their travels would lead them to Mississippi State University, where Dr. Williams received his Ph.D. in agricultural economics. Throughout his professorial career within the agricultural economics industry, Dr. Williams taught at several colleges and universities, including the University of Georgia, University of Hawaii, Morningside College in Iowa, and ultimately, Auburn University - where Dr. Williams retired in 1992.
After retirement, Dr. Williams and Elise resided in Auburn for eight more years. However, the Florida panhandle soon beckoned them with its white, sandy beaches and glorious days illuminated with sunshine - so they purchased a retirement home in the area. As the years went by, the desire to be closer to their children grew, leading them to relocate once more. This move brought the couple back "home" to where Dr. Williams' journey in higher education had originally begun - Clemson University. They reside in the Clemson Downs Retirement Community, located minutes from Dr. Williams's alma mater. Dr. Williams and Elise are delighted to be near family, friends, football, and to relive joyous memories from their time at Clemson while making new ones along the way.
As an economics professor for more than three decades, Dr. Williams is no stranger to the concept of effectively utilizing resources. He and Elise had two goals in mind for the revenue from the sale of their home in Florida: establish funding to suit their retired lifestyle and give back to their beloved Clemson. Ever the savvy couple, Dr. Williams and Elise found their answer in Clemson's Charitable Gift Annuity program (CGA), which allowed the couple to finance an annuity that Clemson stewards through professional investment management. The annuity offers a way in which they can donate to the university in lump-sum, and in return they receive a monthly payment throughout the rest of their lives. With this annuity, Dr. Williams is able to give back to the university that gave him so much - beginning with an education.
Dr. Williams and Elise recognized this opportunity as the elegant solution that met both of their goals. It allows them an income from their investment to sustain their lifestyle as retirees while also supporting their philanthropic goals and objectives to support the University. As Dr. Williams noted, "If I had not graduated from Clemson, I do not know where I would be. I might have been out working in the cotton mill or something. It is the basis for everything I have done since then."
This devoted couple's gift decision will ensure that Clemson University continues to offer life-changing opportunities for future generations of Clemson Tigers!
To learn more about how you can follow the Williams' example and give back to Clemson, visit our Planned Giving website.