Providing a future Clemson students can count on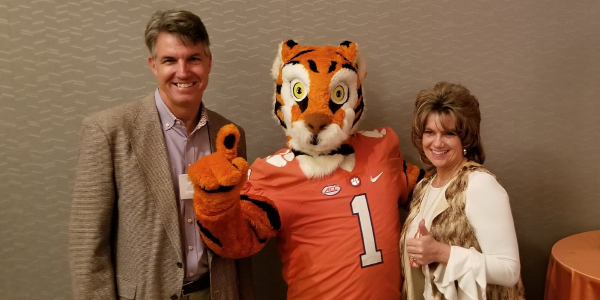 Memorial Stadium. Clemson versus the University of South Carolina. Tied game. Stewart and Michelle Hurst were sitting in seats 27 and 25 (their respective ages).
Stewart turned to Michelle and said, "Do you know what you do during a tied game? You tie the knot." Stewart proposed right there, and the crowd around them erupted.
Stewart was a Clemson graduate and was pulling for the Tigers. Michelle had graduated from the University of South Carolina and was pulling for the Gamecocks. A couple divided, as they say. But that moment, Michelle says, started her Clemson journey. She laughs, "What's a girl to do when she gets a diamond ring in the Clemson stadium. She becomes a lifelong Tiger."
But it wasn't just that the biggest moment of her life happened here. She says, "I enjoyed going to Clemson. I felt the comradery and felt the joy. I came to love the atmosphere."
Michelle was raised in Germany. She was the older of two daughters. After her parents divorced, Michelle and her sister were raised by their mother. Michelle's family moved to the United States after her mother married an East German native in 1978 who was living in Lancaster, S.C.
Stewart was born in Sumter, S.C. and was raised as a Sumter High School Gamecock. However, when it was time to choose where to go to college, he wanted an opportunity to move further away from home to spread his wings. It was too financially straining to go out-of-state. Clemson was still in-state but was far enough away to give him the independence he was looking for. It did not take long for Stewart to shift his gamecock feathers to tiger stripes. He remembers the exact moment. It was a football game day. He was in the student section attending his first football game. He's been ALL IN for Clemson ever since.
Stewart and Michelle met as new graduates working in Greenville, S.C., at the office of a major national accounting firm, now the international firm known as KPMG. They were among a group of young professionals who worked long hours and spent most of their time together. The two lived in the same apartment complex and bonded over their love of tennis.
Stewart moved to Vero Beach, Florida, with Michelle joining him a year later, and the couple married in 1987. After several years with KPMG, in 1992, Stewart joined Frostproof-based Ben Hill Griffin Inc., one of Florida's largest citrus growers. He has been with the company for 30 years, and he is now the company's chief financial officer. Michelle is a partner in the accounting firm Bunting, Tripp & Ingley LLC and has been with the firm for 30 years, specializing in tax and estate planning.
Living in Lake Wales, Florida, Stewart and Michelle have both enjoyed long, successful careers as accountants. They are devoted to their work, family, church and giving. It's been a wonderful life that they are grateful for, and they are committed to giving back to the next generation — and future generations.
As accountants, they personally and professionally understand the value of reviewing and establishing provisions in their estate plan to support organizations that mean the most to them. And supporting Clemson in perpetuity just felt right. They wanted to support future generations of accountants and knew Clemson would ensure they received a top education. Their philanthropic journey at Clemson began with a planned gift, but the couple also wanted to see students today benefit from their generosity. They were surprised to learn that Clemson had limited scholarships for accounting majors. But they were also excited about the opportunity to give these students the support they would need to succeed.
They felt compelled to do both — give today to support current students and give tomorrow to support students forever. The Hursts are funding an endowment now, which will be enhanced through their estate.
When reflecting on their years in college and their professional experiences, they share the advice they would give to students: focus on your studies but also have fun. It's the same advice they gave to their children, Charles (Charlie) and Jacqueline (Lini). Speaking from his own experience at Clemson, Stewart encourages students to seek practical experience through internships and utilize the career services Clemson offers.
He says, "I was able to intern and that really cemented my desire to work in accounting." He also has a great appreciation for the career services Clemson offered him as a student. He adds, "They really opened doors for me, and I would like, in turn, to open doors for other people."
Clemson is still committed to this, ranking in the top public universities year after year for its career services. In The Princeton Review's The Best 388 Colleges: 2023 Edition, Clemson was ranked the nation's best career services.
Stewart describes how he admires Clemson's supporters who give selflessly of their time and talent to our University. Living in Florida, he says it's geographically difficult to give of his time and talent, but he can give of his treasure. He and Michelle started asking themselves, "How can we contribute?" They decided that through a planned gift they could fund the future success of students for generations to come. And they will impact the profession they love by bringing the next generation of accountants into the field.
As you reflect on the ways you can contribute to Clemson and impact our students today, tomorrow or forever, we are here to assist you. Please visit our website to explore the useful online resources. Information about IRA Charitable Qualified Distribution (QCD) benefits can be found here. For information about general estate planning, please download our free Wills Guide, which is designed to help you navigate your thoughts and plans before you visit with your attorney. And of course, we would also love to hear from you directly by emailing us at [email protected].