They've only just begun.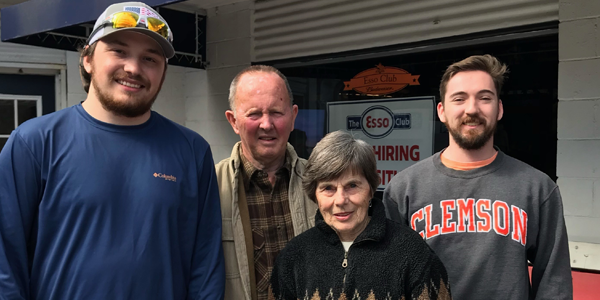 In the Spring of 2020, Hunter Condrey '22 was a sophomore at Clemson, majoring in mechanical engineering, when he and his family received devasting news. Hunter had cancer.
The medical bills were daunting for Hunter's family. They had been blindsided by his diagnosis and were not prepared for the financial toll it would take on their family. A scholarship from James (Jim) E. Reeves, Jr. '67, and his wife Jane changed everything for Hunter and his family. The scholarship allowed Hunter to focus on his studies without worrying about student loans, in addition to his overwhelming medical bills that would be waiting for him post-graduation.
Hunter says, "This scholarship means so much to me and my family; it has been life-changing." Hunter had the opportunity to meet the Reeves and thank them in person. The Reeves were elated to meet the students who are directly benefiting from their generous philanthropy.
The outpouring of support from the entire Clemson Family exceeded Hunter's expectations. He and his mother met with his advisor, Spencer Davenport, who reassured them that she would do everything she could to help him.
"She made sure to email me routinely to keep me up to date on my withdrawal process and to check on me," Hunter said. "Another staff member spoke to my mother several times to check on me and my family."
When Hunter returned to campus that Fall, Davenport ensured Hunter had the best class schedule possible to accommodate his medical appointments. And what Hunter found truly amazing was that Davenport was no longer working within the Department of Mechanical Engineering.
Hunter's story represents the spirit of the Clemson Family-how we come together at the happiest, scariest and most daunting of times.
For some, this level of caring and concern for others might be surprising. However, for members within the Clemson Family, it just who we are and what we do. Any Tiger will attest to this - that we take care of one another. It's the Tiger Spirit. It's the "Something in these hills" that all Tigers recognize.
Last year, Jim and Jane met Hunter and their second annual scholar, Cooper Kelly '22. Across several months, the couple made appointments to have lunch and spend time with Hunter and Cooper, reaffirming their decision to support the next generation. Jim says, "Jane and I could not be happier with the Clemson scholarship experience. If Hunter and Cooper are the type of people graduating from Clemson, then the world will be a better place to live and work."
Hunter and Cooper are now Clemson graduates - which was made possible with generous support from the Reeves. Today, Hunter and Cooper have begun successful careers as mechanical engineers. While life is busy for these recent graduates, Jim and Jane are hopeful that they will stay in touch and have the opportunity to cheer them on during life's journey. The Reeves are confident Hunter and Cooper will be successful in every endeavor, and they are most anxious to see where life will take these talented young men.
This month, the Reeves will meet their third and fourth scholarship recipients, and they are looking forward to the day when they can meet other beneficiaries of their thoughtful generosity.
In addition to their annual scholarships, Jim and Jane have made provisions in their estate plan to provide significant support for Clemson students in perpetuity. They cherish the opportunity to engage with the students who are benefiting from their investment today, and they are passionate about ensuring tomorrow's generation has the same support.
When discussing their generosity to Clemson and our students, Jim says, "We've only just begun." Their philanthropy began with an annual scholarship, and it has grown to include a planned gift that will support future generations of engineers. What they have built today will continue to grow over time.
Their greatest hope is that those who witness and benefit from their amazing generosity will be inspired to do the same.
When the couple met Hunter and Cooper, both students expressed their desire to pay the generosity they received forward. Jim and Jane helped to fill the financial gap in their college experience, and aside from expressing their deepest gratitude, the greatest gift they could give Jim and Jane is to do the same for others in the future.
The Reeves have giant philanthropic hearts, and their financial support stretches across their community in Anderson, South Carolina, including Jane's active role as a volunteer for Meals and Wheels, AIM (Anderson Interfaith Ministries) and the Cancer Association. While volunteering with these organizations, Jane witnessed their impact - giving her and Jim the confidence to provide support of their time, talent and treasure.
The Reeves are setting up the organizations they admire for success in the future. Clemson is a significant part of that, and the University is forever grateful.
When deciding which organization(s) they would focus on to support in perpetuity, Jim says Clemson stood out. He added, "I wouldn't be where I am today without Clemson University."
Jim started Clemson in the 1960s, and he had the unwavering support of his parents. His father attended Furman University, although he never graduated. Jim often heard his father say that not graduating was the biggest mistake of his life. This revelation inspired Jim to attend Clemson and become the first person in his family to graduate from college.
Jim has enjoyed a long and successful career as a mechanical engineer - a field he believes is the cornerstone for society's progress and innovation. After many years with Owens Corning Fiberglas, Jim started his own consulting business and worked for 16 additional years.
Jim and Jane have two children and three grandchildren. Their granddaughter is a sophomore at Clemson.
In addition to professional achievements, much of Jim and Jane's financial success can be attributed to their interest in investments. They utilize the stock market to build their wealth, and they are actively engaged with several investment advisors. When they met with Hunter and Cooper, they encouraged them to get started with an investment professional early in their careers. Time can be the eighth wonder of the world when it comes to investing, and it is never too early to map out a plan for financial success. The Reeves have been actively involved with investments during their 54-year marriage. This, coupled with his professional success and Jane's creative thriftiness, has allowed them to become financially able to support Clemson University and our students, along with their community organizations.
Just as Jim and Jane did many years ago, I encourage you to ask yourself, "When and how will I begin to grow my financial assets in order to provide richly for my family and also for others?" As you explore those options, we encourage you to reach out to our office. It would be our pleasure to assist you as you explore how you can enrich your life, along with the lives of others.
Please visit our website to explore useful online resources, and information regarding IRA Charitable Qualified Distribution (QCD) benefits can be found here. For information about general estate planning, please download our free Wills Guide, which is designed to help you navigate your thoughts and plans before you visit with your attorney and other financial advisors. And as always, we would enjoy hearing from you directly by emailing us at [email protected] .