Vincie Albritton - "Be Prepared for the Yes"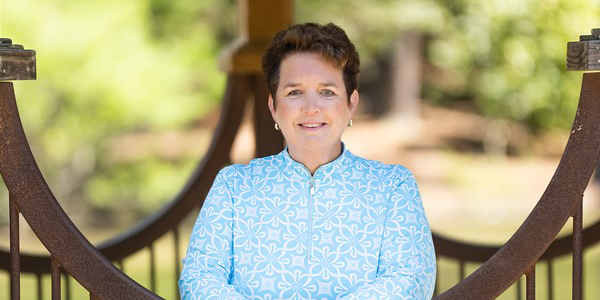 Growing up as a "military brat" was both a blessing and a curse according to Vincie Albritton '84. "Home was more like a suitcase rather than a house because we moved so many times," she says. "I didn't have the experience many of my friends had, growing up in the same house, going to school with the same friends. Imagine being the new kid on the block every three or four years of your life." So, when it was time for Vincie to apply to colleges, it was important to her to find a place that provided a traditional experience. "I wanted it all, a solid education, football Saturdays, pep rallies, and a family atmosphere. A place to call home."
Though Vincie is one of six family members who are Clemson alumni and the only female, she was not aware of Clemson while growing up. In the late 1970s, her uncle and cousin, a Clemson student at the time, visited Vincie's family in Georgia on their way to the Clemson versus Notre Dame football game in South Bend, Indiana. She remembers being impressed with their level of energy and excitement for the school and the game and how excited she was for them when she learned that the Tigers had come out on top. "This experience put Clemson on my radar," Vincie says, "and Clemson was the only school I applied to a few years later. The love my uncle had for Clemson left an indelible impression on me."
Vincie's father, a Georgia Tech graduate, was none too thrilled that she only applied to Clemson, an out-of-state college "18 miles over the state line", but Vincie made it very clear that nothing would deter her from going if she was accepted, telling him that she was going to Clemson even if she had to walk. Luckily for all, Vincie received the exciting news that she had been accepted to Clemson in 1980 and having never stepped foot on Clemson campus, began making plans to major in financial management. True to her independent spirit, she turned down her parents' offer to accompany her to freshman orientation, saying she wanted to experience her first visit to Clemson on her own. "Years later, my mother shared with me how hurt my father was, but I knew my dad, and it was imperative for me to experience this on my own. He certainly wasn't coming with me in September," Vincie recalled. Her first dormitory assignment was the "oil cans": World War II barracks that had been converted to student housing, which got their moniker because they used oil heaters. "That was an experience," Vincie recounts. "My mother was not real keen on an oil heater, but we were like a little village within the University, a part of Clemson's history and character that confirmed I made the right decision."
Her father had seen the value of Greek life during his fraternity days at Georgia Tech and encouraged Vincie to go through recruitment (or "rush" as it was known at the time). Following her father's advice, Vincie pledged Pi Beta Phi. "Having two older brothers, I had never experienced sisterhood until joining Pi Beta Phi," Vincie says. "Joining Pi Beta Phi afforded me the opportunity to make strong, lifelong relationships that continue even today and have helped shape my life."
Being a member of the organization also gave Vincie leadership opportunities. She served on the Panhellenic Council for three years, which gave her the chance to expand and develop other friendships with students from all fraternities and sororities. "Serving on the Panhellenic Council meant that I got to see Greek Life from a high-level view," Vincie said. During her tenure on the council, she was a founding member of Clemson's chapter of Order of Omega. Order of Omega recognizes fraternity and sorority members who attain a high standard of leadership within the campus and Greek community and offers unique opportunities for campus engagement, personal and professional development, and community building.
"Serving in Panhellenic gave me exposure to administrators on campus who I would have never met otherwise. It pushed me out of my comfort zone, developing skills outside of the classroom," she says. "I learned that interaction with people who challenge you to think more deeply is essential for personal and professional development."
Graduating in December of 1984, Vincie began her career in Atlanta, working in a law office and earning a paralegal certification. She dealt mostly with litigation and intellectual property law. A lifelong learner, Vincie returned to the classroom in 1996 and earned her MBA with an emphasis on entrepreneurship from Kennesaw State at night. "While earning my MBA, I came to the realization that I had received an excellent educational foundation from Clemson; I was well prepared for graduate school," Vincie said.
Armed with her new MBA, Vincie moved back to the Upstate in 1997 to work with a medical device manufacturer. "I was given an opportunity and a challenge to expand my skillset in marketing and sales and to once again step out of my comfort zone by establishing their west coast sales office in Denver in 1999." Denver was a long way from home, but determined to make connections, Vincie turned to the Clemson website to see if there was a local Clemson Club. When looking online, Vincie discovered a job posting at Clemson that would change everything for her. The job posting related to the managing and marketing of university intellectual property. She says, "I realized that my education, my experience as a paralegal, and my skill in marketing and sales had led me to this role."
During her 23 years working for the University, Vincie partnered with strong mentors who impacted her in many ways. She wore multiple hats while working for Dr. Ed Page, who was the executive director of the Clemson University Research Foundation (CURF). She developed technology marketing strategies, served as the business officer for the office of research and graduate school, and served as the University research security officer. She also worked with business start-ups, managing the CURF business incubation facilities located in Pendleton. "Those early years with the foundation, I had diverse responsibilities, but I believe that my education and professional experience prepared me well for the role," Vincie said. "I woke up every day knowing that no two days would be the same, and each day would bring its own challenges and rewards."
Working at Clemson allowed Vincie to engage with some truly extraordinary people. "I have been blessed with having gotten the opportunity to work with some very strong role models: Dr. Caron St. John, Dr. Martine LaBerge, and Dr. Frankie Felder to name a few. These women were bright, well-respected, and confident in their skills, both in the classroom and in administration. They were innovative and creative in their approach to their roles and responsibilities and held firm on what they believed."
Working with these individuals opened doors for Vincie. The work with Dr. Felder connected Vincie to Dr. Doris Helms, who was Clemson's Provost at the time. Dr. Helms recommended Vincie for the HERS program at Bryn Mawr College, a 30-day intensive program for women in academic leadership. "The HERS opportunity taught me to approach building networks that support women's career paths with intentionality. I had the good fortune of meeting my mentors through various circumstances at work, but HERS showed me that being more intentional in my networking would help me engage with those who had complementary skill sets and continue to develop my strengths."
"I learned, over the course of my career, that good leaders aren't always defined by title or platform. Regardless of your position in life, you can lead others, and women specifically have the unique ability to lead with integrity and empathy. Regardless of the choice of career, these skills will play a role in all personal and professional relationships," Vincie said.
Over the years, Vincie has given to Clemson's general scholarship fund and to the Women's Alumni Council Anna Maria Calhoun Clemson scholarship fund. "I am aware of the importance of the general scholarship fund for all students, but when I retired this past year from Clemson, I wanted to be more focused and more intentional with my giving than in previous years," said Vincie.
Passionate about mentoring and encouraging women to explore all opportunities, Vincie reached out to Dr. Diane Perpich, Director of the Program in Women's Leadership, one of the first academic programs in the country that focuses on women's leadership through an interdisciplinary approach. Getting to know the young women coming through the program, the enthusiasm Dr. Perpich and Dr. Sarah Cooper have for them and for their education, Vincie recognized the impact of such a program could have on young women coming through Clemson and the organizations that they will contribute to in the future: "I don't see my legacy gift as a gift per se but as an investment in our future leaders. I like the fact that while this program is open to anyone at Clemson, it does focus on the unique qualities that women possess and how those qualities can influence leadership style and function."
"It is imperative for us to help those coming along behind us," Vincie says. "Reshma Saujani, founder of Girls Who Code, stated in her 2016 TED talk that we need to teach girls bravery, not perfection. Reflecting on my career, I recognize that this was instinctive for me. The decisions over my career, whether moving backwards, forward, or laterally, were to prepare me for when someone said 'yes' - giving me the chance to use my skills - to make a difference. We need to be more intentional about teaching our young women to be brave, not perfect, and how to incorporate that into their decision-making process - to be prepared for when the 'yes' comes." As a Clemson alumna, Vincie believes that she has a responsibility to support and sustain the education of the next generation of women who come to Clemson.
Just as Vincie chooses to enhance her legacy by supporting the next generation of Tigers, both during her life and with a significant estate gift commitment to create a permanent endowment that will carry on her inspirational work, we hope you will reach out to our team to discuss how you too can make a difference in the lives of others. Our website features useful online resources to guide your thorough the gift and estate planning process. For more information regarding general gift and/or estate planning options, our free Estate Planning Guide is available to assist you as you evaluate options before visiting with your attorney. We always enjoy hearing from you and encourage you to contact us directly at 864.656.5891 or [email protected].